Overview of PMI-ACP Certification
The Project Management Institute, or PMI, is the world's most highly recognized professional credential provider, providing Certification to professionals in diverse fields across major industries. The PMI-ACP Certification is its prime credential for professionals working in an agile environment. This prestigious Certification best suits professionals who want to excel in agile and can validate their agile knowledge through PMI's Agile Certified Practitioner (ACP) Certification.
With the rapid growth of agile methodology worldwide, more organizations need qualified and trained agile practitioners. These professionals have huge responsibilities and help organizations adopt agile principles and practices to produce the desired results. PMI has developed the PMI-ACP Certification to fulfill the requirement of organizations that have started adopting agile or are trying to adopt an agile mindset.
PMI, the largest body of global project management professionals, conducts regular job analyses to understand the latest industry requirements. Its Agile Certified Practitioner Certification is created to reflect the agile concepts and techniques implemented to increase an organization's business agility. The course content for the PMI-ACP certification examination is designed to measure a professional's agile knowledge and capabilities to utilize agile tools in practice.
It has high standards for attaining its valuable credential as it makes education and experience in agile mandatory for aspiring agile practitioners. Thus, applicants must ensure they fulfill the eligibility criteria before applying for the PMI-ACP certification examination. The applicants must read the PMI-ACP Handbook before starting the certification application process.
PMI-ACP Certification Requirements
According to the PMI-ACP Handbook, PMI requires candidates aiming for the ACP Certification to meet the education and experience requirements in the table below.
| | | | |
| --- | --- | --- | --- |
| Educational Background | General Project Experience | Agile Project Experience | Training in Agile Practice |
| Secondary degree (high school diploma, associate's degree, or global equivalent) | Twelve months are working on project teams. One must earn this experience in the last five years | Eight months are working on project teams using agile methodologies. One must have this experience in the previous three years in addition to 12 months of general project experience | 21 contact hours of professional education in agile methodology |
| | OR | | |
| Bachelor's or post-graduate degree from a GAC accredited program (bachelor's or master's degree or global equivalent) | N/A | Need to show eight months of agile team experience | 35 contact hours of formal project management education |
PMI-ACP Certification Eligibility Criteria
For PMI's PMP or PgMP certification holders, PMI has already verified the general project requirement, so if they can prove their experience in agile project management, then they will become eligible for the PMI-ACP Certification.
It must be noted that these eligibility criteria for the PMI-ACP certification examination must be completed and recorded before starting the application process.
Steps for the PMI-ACP Certification Application
After ensuring that you meet all the eligibility requirements for the PMI-ACP Certification, you can start the application process by following the steps mentioned below.
Register yourself on the PMI Official Website.
PMI recommends using the online application mode to apply for the PMI-ACP certification examination to earn the Certification. If you have not registered, this can be done by writing on PMI's official website (pmi.org). Or you can enter your valid email address and password to access your profile. Once you can access your profile, search for the PMI-ACP Certification and select it.
This will begin your journey to becoming an agile certified practitioner.
The online application form has three sections – Education, Experience, and Exam details. These are discussed in detail below with corresponding images of the PMI-ACP application form.
Enter your Education details.
Enter your highest educational qualification and professional education in agile details in the education section. You cannot access the next election without completing the required fields. So, ensure that each area mentioned in the form is filled and accurate.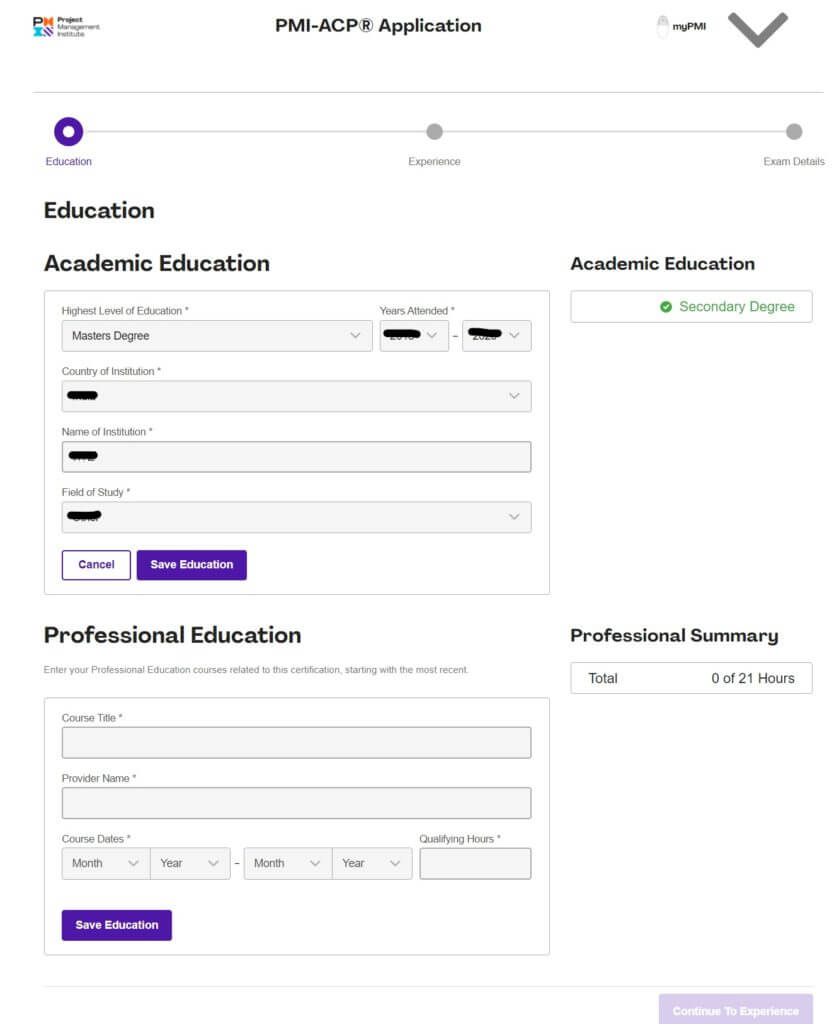 One hour of professional education in agile counts as one contact hour. Applicants must record these contact hours and fulfill the required 21 hours of instruction in elegant with a reputed professional training provider like Unichrone.
Our PMI-ACP Certification Training Course follows the course content outline released by PMI for its ACP certification. It helps aspiring agile practitioners understand the agile methodology in detail and learn about agile tools implemented in the industry. With this training, you will not only fulfill the professional education requirement but will also be able to apply the learnings in the real world and improve the overall productivity of the organizations you work in.
Add your Experience details.
The experience section requires applicants to add the details of projects they have worked on before applying. They must fulfill the necessary months of project experience using general and agile methodologies. However, there should be no overlapping between the two, i.e., your elegant project experience must be separate from your broad knowledge.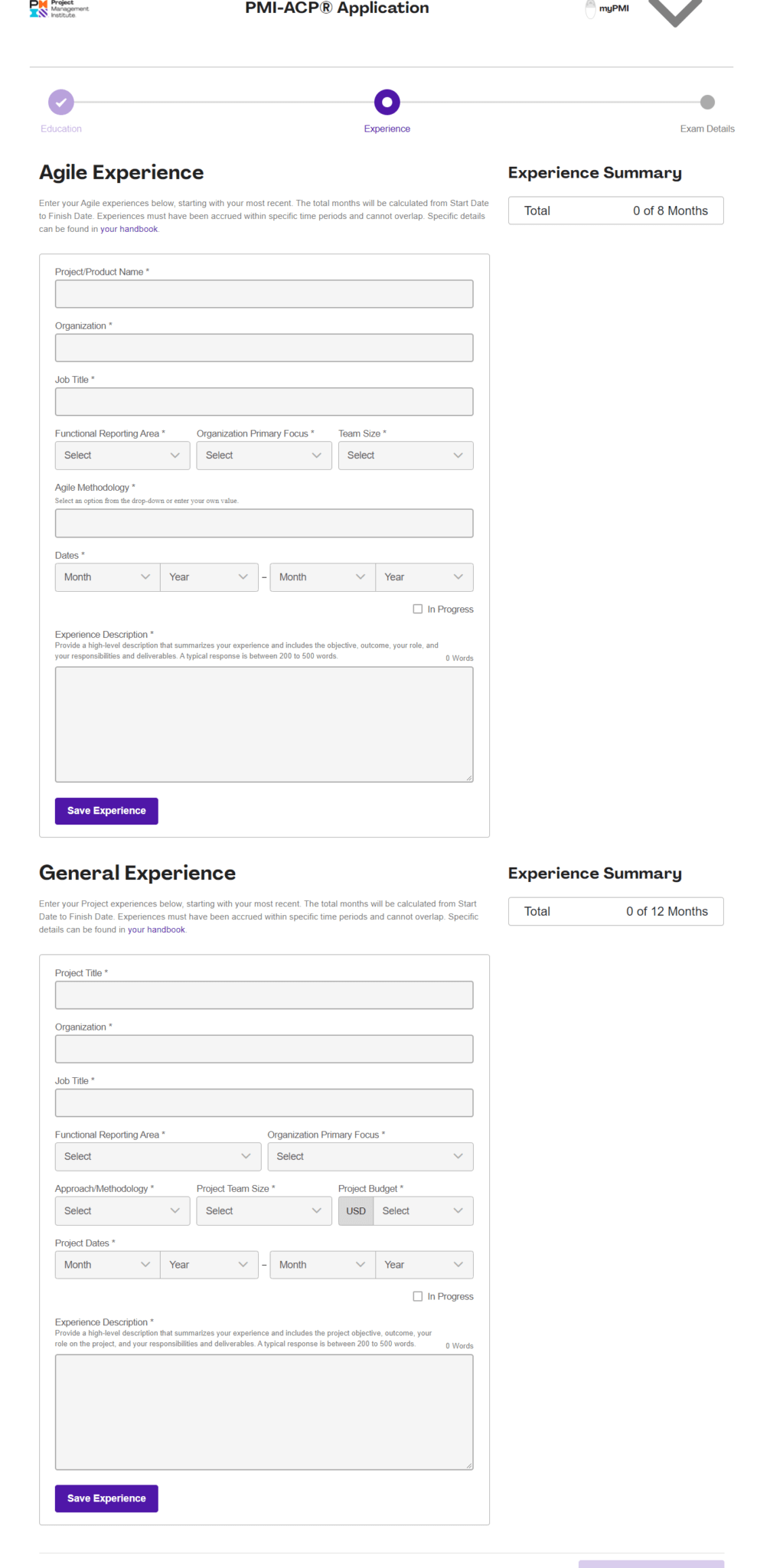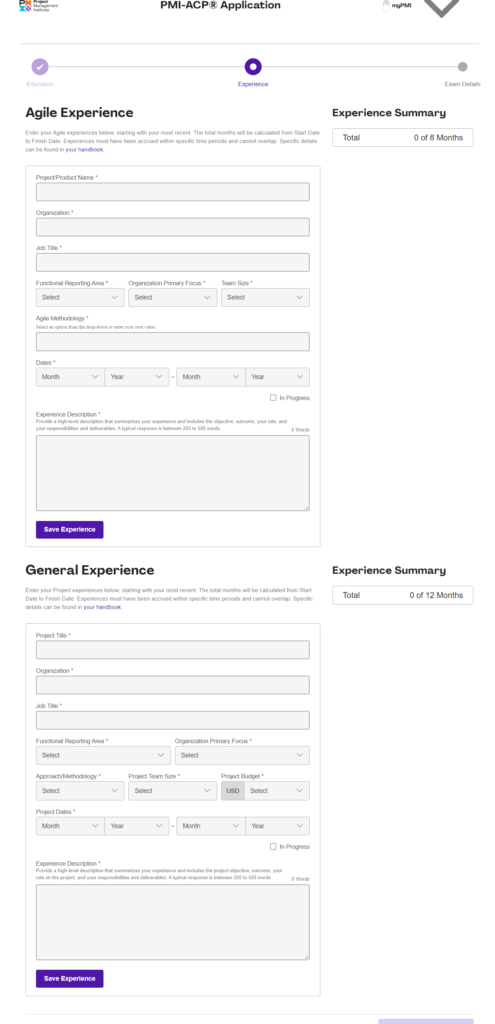 Candidates must give details accurately as they may be reviewed during the PMI audit process.
Complete the Exam details and submit the Application
In the last section, the exam details section of the online application form, applicants must enter their contact details and other information that will appear in the official PMI-ACP Certification.
When all the details are entered and are true to your knowledge, click on Submit Application.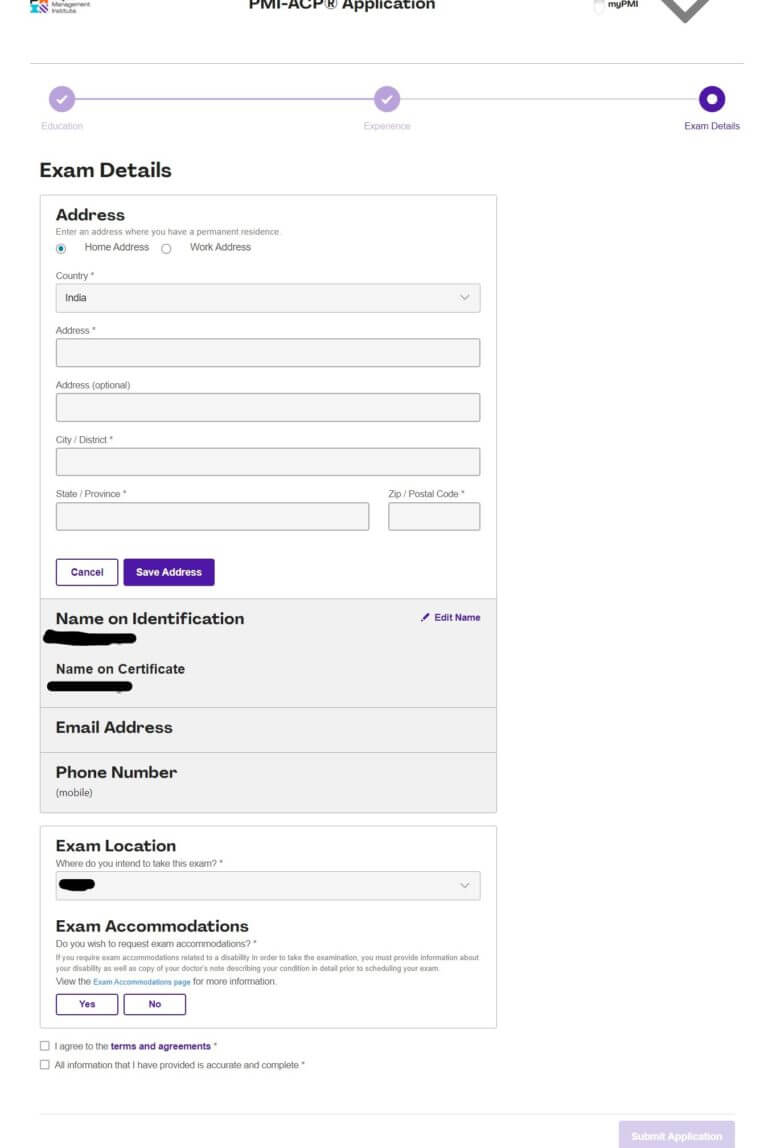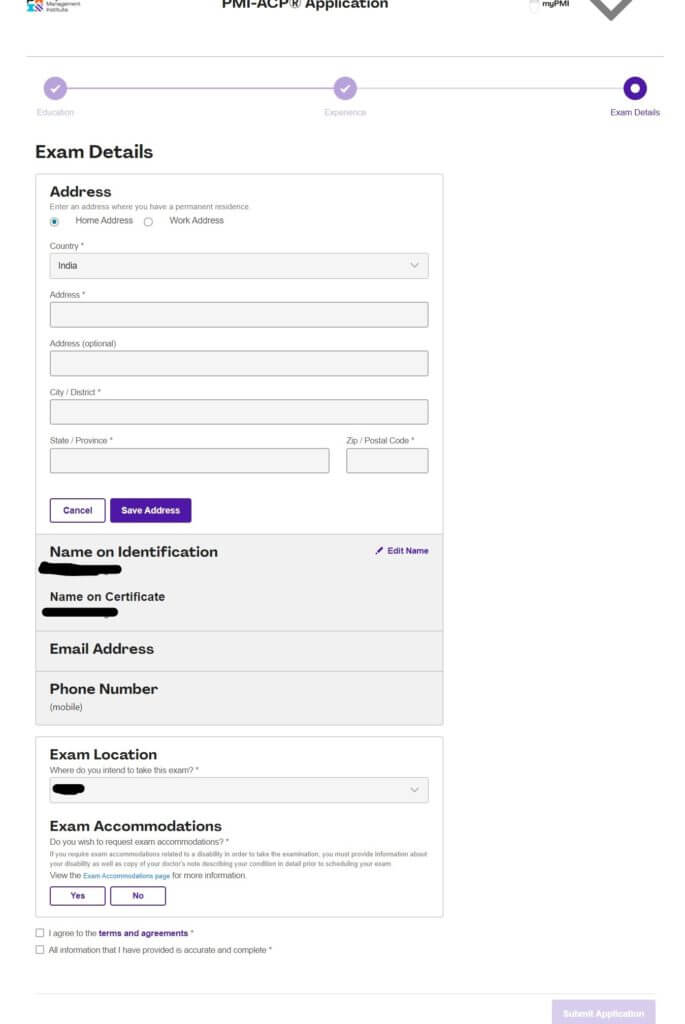 This completed online application form can be downloaded as well for record purposes.
You can edit details you feel have been incorrectly added or misspelled in the online Application. PMI allows you to make changes to the Application within 90 days before submission. You can save the Application and complete it some other time. After submission, the Application gets reviewed by PMI.
PMI-ACP Certification Application Review Timeline
The PMI-ACP Certification application review takes ten days to process, which evaluates the details of each candidate and checks all parties are by the eligibility criteria.
If and when PMI approves the PMI-ACP Certification application, you will receive an electronic confirmation to the registered email address you provided in the contact details. Then you can proceed to pay the PMI-ACP certification examination fee.
Although for some candidates, PMI may select the Application for audit. Every Application is eligible for PMI's audit process and is chosen randomly by PMI. So there is no need to panic. You can follow the instructions provided by PMI and still become eligible for the PMI-ACP certification examination.
PMI Audit Process for PMI-ACP Certification
The audit process of PMI ensures that the applicants who want to earn the PMI-ACP Certification meet their high standards. This is what makes earning this Certification so valuable and commendable.
In PMI's audit process, candidates are asked to submit proofs of their education and experience details they have mentioned in the online application form. PMI provides 90 days to submit the document proofs, which may take 5-7 business days to finish. Candidates are advised to send all the requested documents at a time through regular post or courier services for faster audit review.
A successful audit review will result in the approval of your PMI-ACP Certification application and mark the beginning of your one-year examination eligibility period. Then you will be asked to pay for the examination fees.
Failure to submit the requested documents and not cooperating with the audit process will result in the termination of the Application entirely. It may also result in a one-year suspension to reapply for any PMI certifications in the future.
Therefore, applicants must comply with the audit process and follow the instructions properly.
Summary
To summarize, the path to becoming an Agile Certified Practitioner in 2021 is fairly simple and can be accomplished by following these five steps:
Registering on the official PMI website (if you have not registered previously)
Adding the highest educational qualification details
Recording and mentioning the required 21 contact hours of professional education and training in agile methodology details
We are fulfilling the recommended months of unique general project experience and agile project experience.
We are completing the online application form thoroughly and accurately.
I hope this guide helps you earn the industry's highly regarded professional credential and be recognized as a certified agile practitioner.