Project Management is an important aspect of almost every organization around the globe, irrespective of their domain or size. Professionals working in the project management industry always try to stay updated with the latest industry trends and global economic situations to excel in their profession. To help professionals enhance and justify their knowledge and skills, a project management governing organization like PMI provides certifications to aspiring project management professionals by keeping the needs and requirements of the industry in mind. PMI's Professional Development Units or PDUs are examples of their commitment to maintaining the quality of the certifications they provide. These are created to help professionals maintain their certification status with PMI. This article will help you understand the importance of PDUs in maintaining PMI-ACP® and PMI-RMP® Certifications.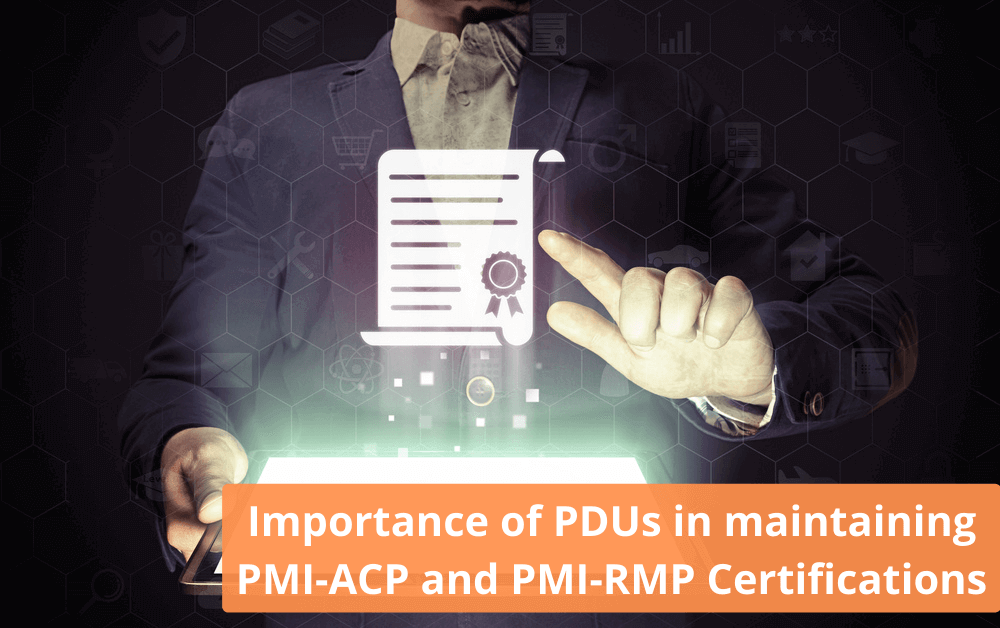 A Brief Introduction of PMI
The Project Management Institute (PMI) is the premier governing body for Project Management Professionals around the world. It has over 600,000 global members and more than 300 local chapters of PMI in different countries. This has made it established itself as one of the leading global project management organizations. Aspiring project managers and professionals interested in working in the project management industry in similar or related domains utilize the vast array of certifications designed and provided by PMI to achieve their career goals. PMI's certifications are widely recognized in the project management industry. These credentials provide credibility to the certification holder and help them validate their project management knowledge and skills. With the right PMI Certifications, professionals can achieve their desired designation or even get promotions in their existing organizations.
PMI's Professional Development Units
All PMI Certifications have a limited validity period, and professionals must renew their certifications to maintain their respective certifications. PDUs or professional development units are essential to maintain the certification status with PMI through their Continuing Certification Requirements (CCR) program. These are simply measuring units that quantify a professional's development by recording one-hour blocks of time that a professional has spent either learning or volunteering. So, a professional with 1 PDU would mean that the professional has spent at least an hour learning or volunteering in their respective project management domain. Professionals can maintain their respective PMI Certifications by accumulating and recording PDUs.
PDUs have two categories:
Education – These are PDUs earned by a professional from learning by attending seminars, webinars, training classes, and self-directed training courses.
Giving Back to the Profession – These PDUs are earned by professionals through teaching, volunteering, and mentoring.
Ways to earn PDUs
Different organizations within the project management industry have different needs and requirements. Professionals who want to make a career change or want to advance their careers further can earn PDUs. PDUs helps to gain market insights and learn about the latest industry trends. Therefore, PMI allows professionals to earn PDUs in many ways.
Here are the ways to earn Education PDUs:
Registering for training and learning about the latest project management practices through an authorized training provider.
Visiting PMI chapter meetings and seminars.
Attending online sessions and webinars.
Using digital platforms and PMI books for self-paced learning.
Through informal learning like structured professional discussions and mentoring.
The main purpose of the Education PDUs is to advance a professional's education to suit the requirement of the evolving project management industry. Education PDUs are about knowledge improvement whilst Giving Back to the Profession PDUs are about personal growth. Together, they contribute to your overall professional development.
Here are ways to earn Giving Back to the Profession PDUs:
By working as a practitioner.
By creating content related to your profession.
By giving presentations and sharing your knowledge with others.
By teaching or volunteering.
Giving Back to the Profession PDUs are not a requirement for recertification or certification renewal. However, they are a great way of expanding your horizons. The CCRS or Continuing Certification Requirements System of PMI allows professionals to submit the required PDUs of certifications that they want to maintain. Recently, PMI has introduced the PMI Talent Triangle® to help professionals in attaining knowledge and proficiency in certain areas of project management that will be beneficial for them as well as the industry they work in.
PMI Talent Triangle®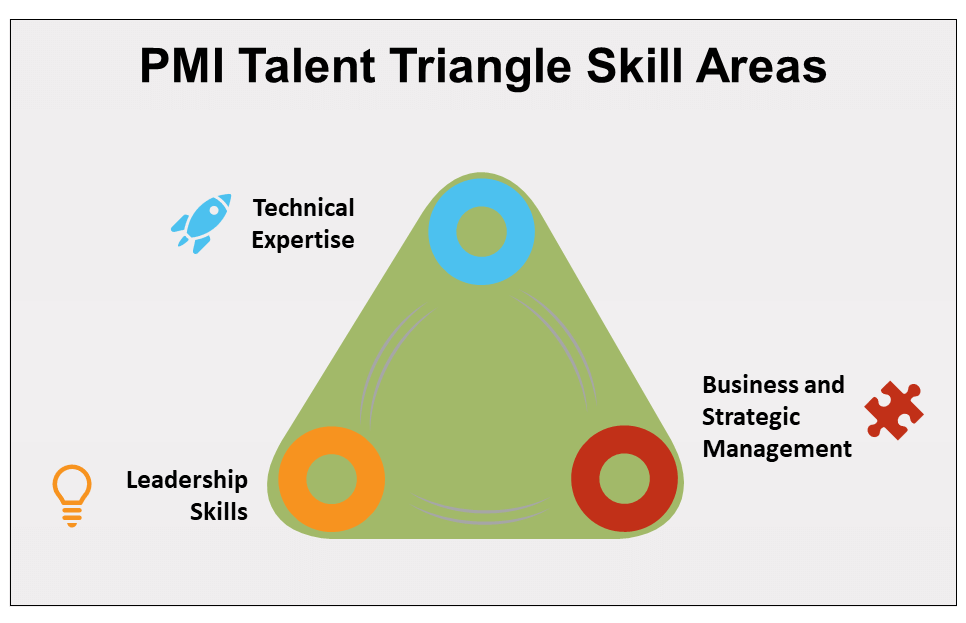 Project Management Institute is known to conduct surveys from time to time to gather information about the needs of the project management industry, advice of project management experts, grievances of project management professionals working in the industry, and market insights. This helps them design their exam content and certification requirements to fulfill the latest project management practices. After researching, PMI came up with the Talent Triangle® to assist project management professionals in maintaining their certification by meeting the required knowledge and skillset under its three categories.
These are as follows:
Technical – These are knowledge and skills related to the technical aspects of a professional's position.
Leadership – These are knowledge, skills, and behaviors related to a professional's ability to guide, motivate or lead others to achieve a goal.
Strategic and Business Management – These are the knowledge and skills of a professional in managing the project management team whilst aligning the objectives of the organization to deliver the best possible results.
These three knowledge and proficiency areas together form the Talent Triangle®. Organizations and employers believe that a professional needs to provide proof of having knowledge and skills in the technical, leadership, strategic, and business management sectors of project management. This helps them identify the right professional to lead and direct projects for their organizations. Also, professionals can maintain their certifications by successfully proving their proficiency in these areas whilst advancing their continuous professional development.
Maintaining PMI-ACP® and PMI-RMP® Certifications
Now that we have established the importance of PDUs in maintaining the PMI Certifications, we can proceed to the PDUs requirements of maintaining PMI-ACP® and PMI-RMP® Certifications. Agile Certified Practitioners having PMI-ACP® Certifications and Risk Management Professionals having PMI-RMP® Certifications must earn 30 PDUs in a 3-year cycle. Agile Certified Practitioners and Risk Management Professionals can fulfill all their PDUs requirements by earning the Education PDUs alone. However, the 30 PDUs are divided into two – 18 Minimum Education PDUs and 12 Maximum Giving Back PDUs.
According to the Talent Triangle®, a minimum of 4 PDUs for each knowledge and skillset must be registered in the CCRS. Once they are filled, the remaining PDUs can be added to any of the three sections. Since Giving Back PDUs are optional, professionals can earn the required 30 PDUs by registering their Education PDUs only. Suppose professionals want to register their Giving Back to the Profession PDUs. In that case, they will have to register 4 PDUs for working as a professional and the remaining 8 PDUs for volunteering and similar areas.
PMI-ACP® and PMI-RMP® Certifications Renewal Process
The certification renewal process for professionals who have earned the PMI-ACP® Certification or the PMI-RMP® Certification recently or a few years before is the same. Before the three-year validity period of your certification expires, you can register the required 30 PDUs in the CCRS of PMI. Once this is done, you must pay the renewal fee. Moreover, the new 3-year cycle will begin from your original certification expiration date and not the recertification date.
Conclusion
To conclude, PMI's PDUs are excellent resources to help improve the personal and professional growth of project management professionals. With the introduction of the Talent Triangle® in the CCR program, the renewal process for the PMI-ACP® and PMI-RMP® Certifications will become more streamlined and structured. Therefore, Agile Certified Practitioners and Risk Management Professionals can efficiently enhance their knowledge and maintain their certification with the help of PMI's professional development units.