At times, contact hours are mistaken for PDUs. Contact hours have to be earned for appearing at any project management certification exam. On the other hand, Professional Development Units are required for sustaining the certification ownership. Three of the project management accreditations by PMI make it necessary for candidates to gain PDUs. These are, namely, the PMP, PBA, and PgMP certifications awarded on clearing their respective exams.
What is a PDU?
As its full form suggests, a PDU is an intangible badge for exhibiting one's professional development. The certification recognizes whatever experience and knowledge have been initially gathered by the individual. PDUs determine the individual's capability of deploying and upgrading the gathered knowledge.
PMP PDU Requirements – Renewing a PMP Certification
The PMP Certification highlights the management of the event portfolio of a project alongside handling it. It empowers the aspirant with all the skills required for playing the role of a proficient project manager. On becoming invalid after a period of 3 years, this certification can be renewed. Eligibility for resuming the certification validity demands 60 PDUs from the candidate to be acquired within this time span.
PgMP Certification – How many PDUs are needed to renew a PgMP Certification?
A PgMP Certification is a ticket to the program manager designation. The most advanced stages of different program management techniques are handled by this certification holder. Like PMP, a PgMP certification is also subject to the 3-year expiry term during which 60 PDUs have to be accomplished.
PBA Certification – Does the PBA Certification require PDUs for its renewal?
Professionals possessing a PBA Certification are endowed with the authority of exercising their business analytical skills. Like the previous two, this certification has to be validated every three years. For each of the 3-year periods, a separate set of 60 PDUs has to be gathered.
What happens if the required amount of PDUs is not earned?
If the candidate fails to achieve the PDUs during the CCR cycle then his credentials get suspended for a year. Finally, the certification ceases to function. CCR (Continuing Certification Requirements) cycle ends on the 3rd year completion of the exam-passing date.
What are the different kinds of PDUs?
PDUs (Professional Development Units) are categorized under two heads, which are:
1. Education
2. Giving Back
Education PDUs
In compliance with the Talent Triangle of PMI, the education PDUs comprise 60% of the total PDUs to be earned. This amounts to 35. Earning 8 PDUs is compulsory in each of the three sections:
Technical management of projects
Business and strategic management of projects
Project leadership
The rest can be achieved in any of these compartments irrespective of limitations to a particular number. These three categories together form the Talent Triangle.
Giving Back PDUs
This segment includes all the PDUs earned through volunteering, professional experience, and knowledge creation. Not more than 8 PDUs can be acquired from the category of professional experience. Other 17 PDUs have to be earned through knowledge creation and volunteering.
To confirm the earning of PDUs, it can be tracked with the help of the CCR system in the PMI website. The transcripts of the PDUs posted there are transferable into paper or electronic copies. A form designed to report each PDU activity on its completion is made available by the website. One only needs to send these forms for confirming his/her PDU achievements. Documentation supporting these activities must be retained for producing them at the time of audit.
Is it mandatory to earn the total number of PDUs from both these compartments?
Not more than 25 PDUs can be obtained from the 'Giving Back' category. This option is meant for contributing one's knowledge to the project managing profession. The subdivisions of this category, as mentioned above, lead to the active application of one's skills and knowledge. So, there isn't any hard and fast rule for acquiring the remaining 25 PDUs from these sections. They can also be earned from the 'Education' category apart from the initial 35 PDUs. Thus, the choice entirely rests on the candidate.
PMI Talent Triangle
As discussed previously, PMI's Talent Triangle encompasses several skills broadly categorized under three heads. These are: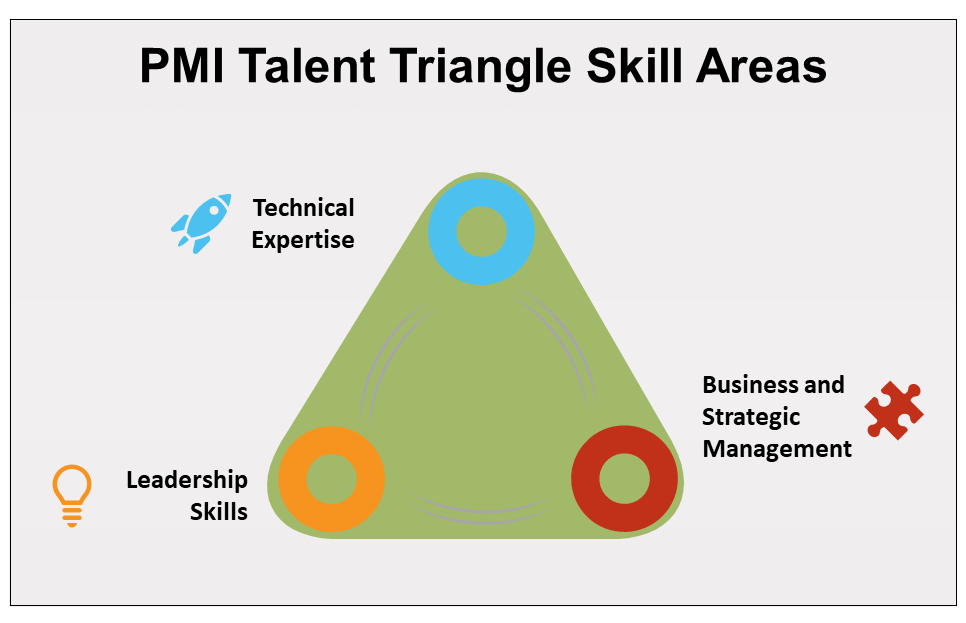 Technical Expertise
Technical skills are most sought-after and rare to be found by organizations in their project management domains. The concepts and approaches towards business analysis, program, and project management are covered in this area. For instance, improving the WBS (Work Breakdown Structure) of a project is a technical skill.
Business and Strategic Management
Project or program management expertise combined with organizational strategy results in project success. Earning PDUs in this segment is thus, effective for a professional to flourish in the project management field. Business acumen, product, and industry knowledge come under this category. Aspirants are trained in aligning customer, differentiation, market, and innovation strategies.
Leadership Skills
Effective leadership is the key to the successful handling of complex projects. This skill is prioritized by a majority of organizations. Conflict resolution, negotiation, motivation, problem-solving are included in the skill set. To obtain PDUs by mastering these competencies definitely measures one's project management potential.
To wrap it up
Exclusive training courses for the PMP, PBA and PgMP Certifications have been tailored to help candidates in acquiring PDUs. These Professional Development Units only ensure that the certified individual is constantly updating and polishing his/her skills.