Companies are looking more closely at the resources required to address a growing labor challenge due to increased cyberattacks. This has created a skill gap in the field of cybersecurity. Businesses look for professionals with advanced certifications in the field and having the right skillset for managing such attacks. Acquiring a certificate is a sensible approach to exhibiting professionals' abilities and expertise in the cybersecurity domain. Microsoft is a well-known name when it comes to cybersecurity certifications. Earning Microsoft Cybersecurity Certificates aids professionals in gaining widespread recognition and significant career growth, thereby establishing them as experts in cybersecurity.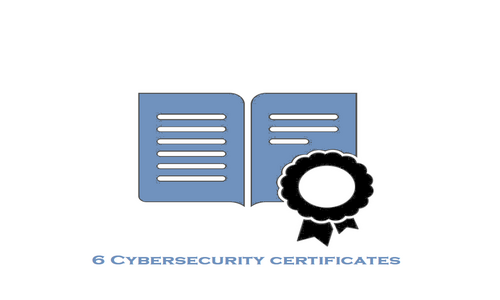 Which are the top Microsoft Cybersecurity Certificates?
Microsoft Cybersecurity Certificate provides professionals with new and updated cybersecurity skills. This in turn, enables them to stand out from other professionals thereby, increasing their chances of getting promoted. Microsoft Cybersecurity Certificates further boost a professional's credentials and credibility. Following are the top Microsoft Certifications that aid professionals in furthering their careers in cybersecurity.
Microsoft Certified Security, Compliance, and Identity Fundamentals
Microsoft Security, Compliance, and Identity Fundamentals Certification for professionals interested in advancing to role-based certifications in security operations, identity and access management, and information protection. The accreditation ensures professionals have a firm grasp of a range of topics in the rapidly growing field of cybersecurity. Passing Exam SC-900 is a requirement for professionals seeking the Microsoft Security, Compliance, and Identity Fundamentals Certificate. The exam gauges candidates' basic understanding of security, compliance, and identity in relation to cloud-based Microsoft services and associated services.
Microsoft 365 Certified Security Administrator Associate
Microsoft 365 Security Administrator Associate Certificate recognizes professionals' expertise in developing, implementing, managing, and overseeing security and compliance solutions for Microsoft 365 and hybrid environments. They deploy threat prevention, manage information protection, enforce compliance, and proactively safeguard identity and access. Professionals who pass the MS 500 Exam are eligible for this credential. This exam evaluates candidates' ability to implement and manage identity and access, threat protection, information security, and compliance in Microsoft 365.
Microsoft Certified Cybersecurity Architect Expert
Professionals can gain expertise in designing cybersecurity strategies to safeguard organizations through the Microsoft Cybersecurity Architect Expert Certificate. Certified experts specialize in creating Zero Trust architecture and strategy, data security measures, applications, identity, access management, and infrastructure. Professionals should pass SC 100 to get the Microsoft Cybersecurity Architect Expert Certificate. The exam revolves around the concepts of GRC technical and security operations strategies, designing security for infrastructure, developing a plan for data, and recommending security best practices and priorities.
Microsoft Certified Identity and Access Administrator Associate
Microsoft Identity and Access Administrator Certificate allows professionals to develop, deploy, and administer IAM systems utilizing Microsoft Azure Active Directory. They oversee operations, including securing authentication and authorizing access to business applications. Professionals who want to get this certificate must pass Exam SC 300. The exam assesses the knowledge of implementing identities in Azure AD, authentication and access management, application access management, and identity governance.
Microsoft Certified Security Operations Analyst Associate
Microsoft Security Operations Analyst Associate Certification validates the expertise required to reduce corporate risks by resolving active attacks. Additionally it offers recommendations for strengthening threat prevention procedures, and reporting policy breaches to the appropriate stakeholders. They investigate, respond to, and hunt for threats using Microsoft Azure Sentinel, Azure Defender, Microsoft 365 Defender, and third-party security products. Candidates must pass the SC 200 Exam, which verifies their foundational knowledge and demonstrated expertise in Microsoft Security Operations.
Microsoft Certified Information Protection Administrator Associate
Microsoft Information Protection Administrator Certificate verifies proficiency in planning and implementing controls that adhere to information protection and governance standards. The certification attests to their proficiency in translating technical implementation into information protection requirements and controls. The certified experts collaborate with the security and governance leadership to assess all related enterprise risks. One must pass the SC 400 Exam to get this credential. Their competence in implementing information governance, data loss prevention, and information protection is evaluated in the exam.
Conclusion
In cybersecurity, there is a massive demand for validated skills and competencies. Therefore, obtaining a Microsoft cybersecurity certification is a great way to begin, advance, or develop a career in the cybersecurity. Professionals can demonstrate their willingness to learn while acquiring in-demand job skills by pursuing and earning cybersecurity certifications. Moreover, Microsoft Certification is an industry-standard recognized worldwide, creating numerous new employment opportunities and higher earnings.