Cloud Computing uses have been steadily increasing over the years with more and more business enterprises and private organizations taking their operations onto the cloud. AWS or Amazon Web Services was the first to provide a secure cloud computing platform for many businesses around the world. Microsoft soon followed with its own cloud computing platform in the form of Azure. Both cloud providers are used by business organizations globally with AWS taking a major share of the market being the most mature of the two. However, it will be incorrect to cross Microsoft Azure out of the better cloud computing provider debate based on the year of development alone.
In this article, we will compare the cloud security of the two of the most used cloud computing platforms in the world. And try to understand whose cloud security is better, since security is a major concern for every organization around the globe. AWS Security vs Azure Security is a topic of discussion among most business enterprises and determines the direction that enterprises must follow to get the results that they seek to achieve.
A Brief Introduction of Amazon Web Services
Amazon Web Services or AWS is one of the most popular cloud service providers in the world. It has been in circulation for a long time and there is a lot of information about its cloud computing architecture. Amazon also offers its own set of AWS certifications to help individuals gain knowledge about the various functions and features of the AWS architecture. AWS Certifications like Developer-Associate Certification and Solutions-Architect Certification are the most sought-after AWS certifications in cloud computing. Without proper knowledge of the AWS architecture, organizations cannot carry out their cloud computing operations. Thus, having earned one of the AWS Certifications is an important step for any cloud computing professional. Organizations usually hire these AWS-Certified professionals to manage their business on the cloud using the AWS architecture.
A Short Outline of Microsoft Azure
Microsoft Azure is the next best cloud service provider in the world after AWS. However, it offers some specific advantages that are beneficial for some business enterprises. Due to lack of proper documentation, cloud computing professionals might find operating the Azure architecture a little difficult at times. Therefore, like Amazon, Microsoft has developed its own certification and training programs to help aspiring cloud computing professionals who want to work in enterprises using the Azure cloud computing architecture. Azure Solution-Architect Certification is one such credential offered by Microsoft that is designed to help individuals gain knowledge about the Azure architecture and learn about its various features. Earning this certification will allow cloud computing professionals to work in business enterprises that use the Azure cloud computing platform.
Azure vs AWS Security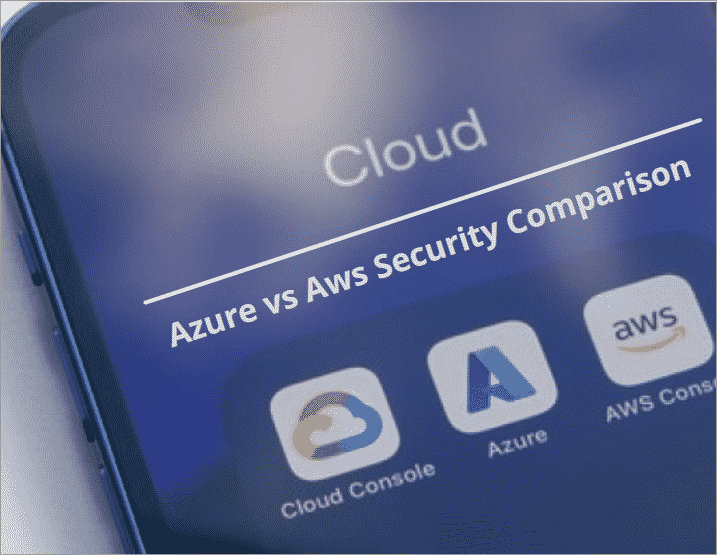 Business enterprises and organizations often have the 'AWS Security vs Azure Security' debate. This is important as it may very well determine the path which they want to follow. Cloud security will help these businesses align their objectives with the output of the cloud service provider. Thus, whichever cloud service provider offers cloud security that matches the requirements of the enterprises can be considered. The AWS cloud security and the Azure cloud security are compared based on the following elements:
Identity and Access Management
It is a vital part of cloud security. Identity and access management is customer-focused, thus plays an important part in determining which cloud security is better. AWS uses its built-in cloud-centric IAM which does not charge extra and can function in a hybrid environment. While, Azure has the Active Directory, Microsoft's legacy identity manager that it has extended from Windows. The paid Azure AD allows users to work in hybrid environments.
Key-based Data Encryption
Amazon KMS and Azure Key Vault offer data encryption at rest as well as in transit. Both these tools support key management. However, some enterprises might want to take control of the encryption and management of keys for compliance reasons. For this purpose, a Hardware Security Module or HSM is a viable option. Azure has HSM in its Key Vault, but the KMS and HSM services are separate on AWS. Users can access these services easily as there is not much difference in the pricing on both Azure and AWS.
Storage Data Encryption
The encryption of stored data or object data is another important comparison factor for selecting the cloud provider. Amazon has S3 (Simple Storage Service) and Azure has Blob to support object data encryption with keys. AWS manages these keys and gives the option to manage these keys personally while this feature is not possible in Azure yet.
Virtual Private Network
A VPN or Virtual Private Network allows users to transfer data between the data center and a public cloud. Due to its encrypted form, it offers extremely high security as the data is transferred over the internet. AWS enables VPN through VPC (Virtual Private Cloud) and Direct Connect. However, AWS uses layer 2 routing which is not as good as the layer 3 routings that are offered by Azure's ExpressRoute and Virtual Network.
Monitoring
Monitoring plays a vital role in comparing the cloud security parameters of AWS and Azure. As the cloud services and the applications supported by them need to be monitored, effectively. AWS CloudWatch helps achieve this in a single service, while Azure has the Azure Monitor to track all the Azure services and Azure Application Insights to oversee the applications running on Azure.
Conclusion
Now, that we have made the comparison we can conclude that both the cloud providers are popular in cloud computing because they serve their purpose in an effective and efficient manner. The question 'Whose Cloud Security is better?' is not up for debate as they both offer valuable benefits to the enterprises and organizations that utilize them. Gain in-depth knowledge about these features of cloud computing with the help of our industry-standard certification training course. Learning about the AWS and the Azure cloud computing architectures through our AWS Certification Training and Azure Certification Training respectively will help cloud computing aspirants as well as businesses hiring these professionals to achieve their objectives successfully.