Cloud computing has gained immense popularity over the years. With advancements in technology, several organizations are opting to instill cloud computing into their framework. The term cloud computing refers to a set of computing services like data storage, servers, databases, software, and networking which is delivered over the internet. Businesses that use cloud computing have reaped the benefits of reduced costs and increased productivity. Such benefits can be realized with the assistance of cloud architects.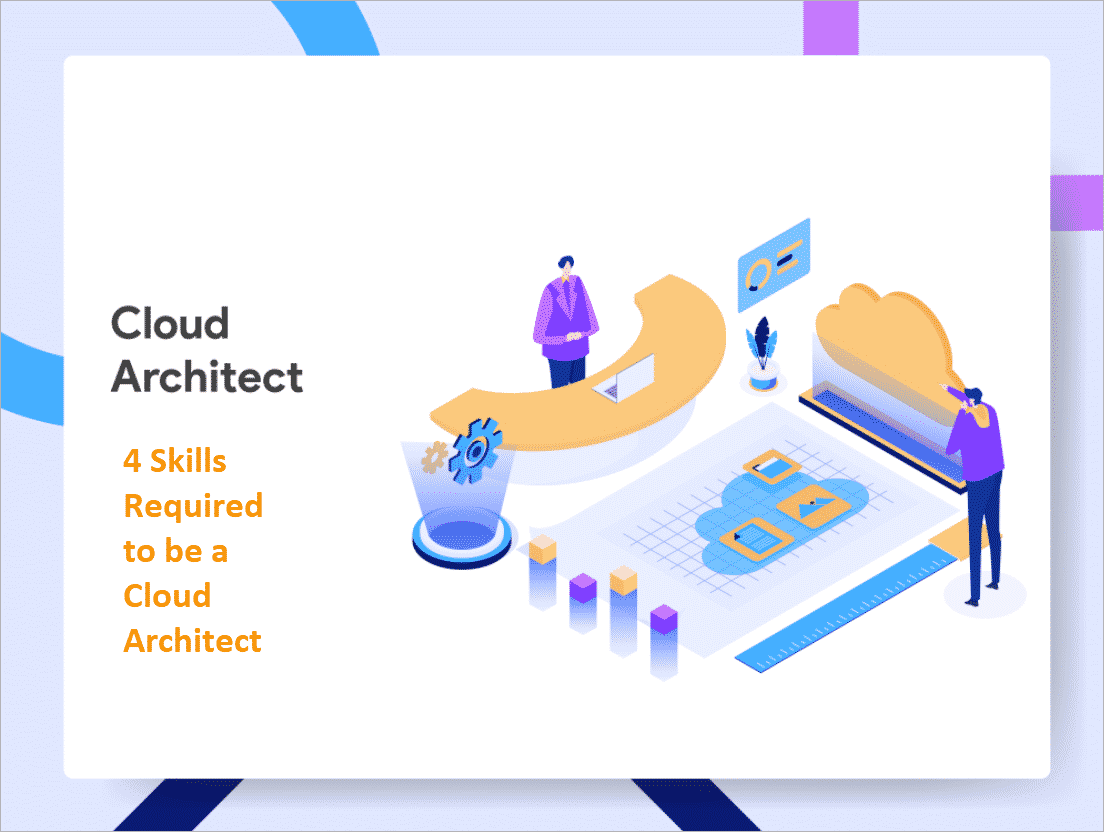 Who is a Cloud Architect?
A cloud architect is an individual who is well-versed in managing an organization's cloud computing system. Such professionals are programmed to work in organizations irrespective of the industry. Cloud professionals or architects have a unique place in the IT department of the organization. They engage in creating a team for developing applications within the organization's cloud computing system. In addition, cloud architects indulge in monitoring the cloud activities of the organization along with various other roles.
How to become a Cloud Architect?
Acquire the skills
The role of a cloud architect is not an entry-level post. so, individuals need to earn the necessary skillset, own a degree and certification to pursue the role of cloud architect. The preliminary skills required to be a cloud architect include:
In-depth understanding of the operating system
Familiarity with networking concepts
Knowledge of various programming languages
Command over various tools
Along with these skills an aspiring cloud architect needs to have technical expertise in IT to work within a cloud computing environment. Some of these advanced IT skills include data storage fundamentals, security foundations, and cloud-specific technologies.
Gain education
Aspiring cloud architects need to acquire a bachelor's degree or master's degree in computer science. While some organizations prefer a master's degree, others look at the skills acquired. As a result, a strong foundation of programming languages can add value while becoming a cloud architect.
Acquire experience
The position of a cloud architect is a mid-level career (Read How to start my career in AWS). This forces professionals to acquire experience before pursuing the role of a cloud architect. In order to gain on-the-job experience, professionals need to fill entry-level IT positions available in the organization and work their way up. This helps professionals to gain experience in the IT sector along with other personal development skills like leadership and communication. A cloud architect needs to have solid communication skills to lead the team of professionals engaged in handling cloud computing.
Get certified
Owning a professional certification assists aspiring cloud architects to land their dream jobs easily. There are several prestigious certifications available for cloud architects which assist in climbing the career ladder easily. Also, it is easier for large entities to look for certified professionals who possess advanced skillset among the crowd of regular professionals. so, let us have a look at a few of these certifications in detail.
AWS Solutions Architect Certification
This AWS Solutions certification helps aspiring cloud architects to acquire the skills of designing and implementing cloud computing on AWS. The certification can be pursued by individuals who have one year or more of experience in AWS technology. To describe further professionals need to have experience in:
Using computing, networking, database, AWS deployment, and management services
Deploying and operating workload on AWS
Applying AWS management console and AWS Command Line Interface
Identifying which AWS meets the technical requirement for a given project
On meeting these prerequisites, aspirants can take up the exam and acquire the necessary passing score to obtain the certification.
Azure Solutions Architect Certification
This certification can be pursued by individuals who are interested in designing and implementing cloud solutions that run on Microsoft azure. Professionals owning the Microsoft Azure Certification gain credibility in the field of cloud computing. There are two exams that have to be taken up by individuals pursuing the certification. AZ 300 Exam covers the technologies to be mastered by aspiring cloud architects. AZ 301 Exam focuses on the architect design of cloud computing services offered by Microsoft Azure. Aspirants need to have strong experience in deploying solutions on Azure to pursue the certification.
Aspiring cloud architects can undergo the respective training programs in order to acquire these renowned certifications. AWS Solutions Architect Certification Training is provided for 4 days. During the course of training, aspirants gain real-time insights into the field through highly qualified trainers. This enables them to acquire and apply industry best practices of cloud computing.
The Microsoft Azure Solutions Architect Certification Training is provided for 5 days. Aspirants master the various cloud computing skills during the training program. At the end of the training course, aspirants can take up the exam conducted in online mode. Professionals scoring the required passing marks can obtain their certification from Microsoft.
Acquiring either of these internationally recognized cloud certifications (Read in detail AWS vs Azure Security Comparison) makes it one-notch easier for professionals to pursue their careers as cloud architects on a global scale.