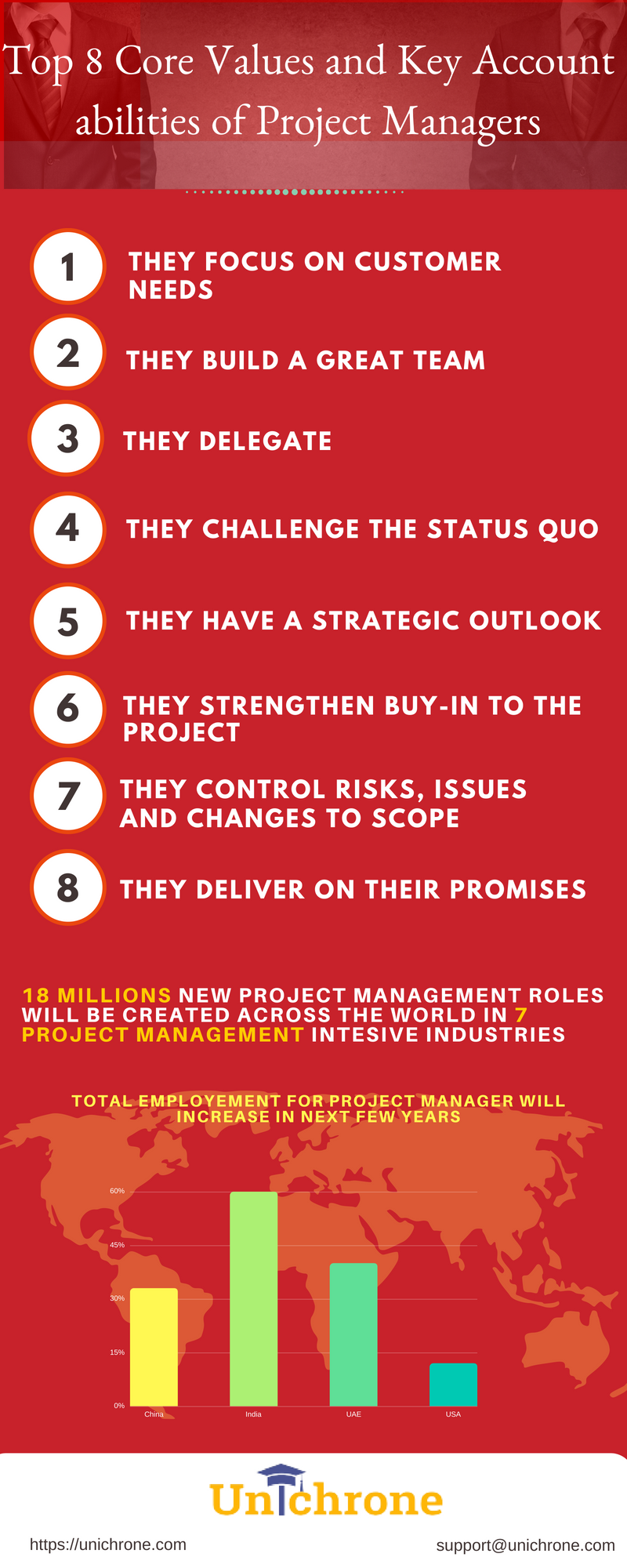 A project manager is a true leader based on the immense responsibility he bears. He/She is the one who establishes conformity of diverse ideas to reach a fruitful result. One must possess the following skills to accomplish the project management role.
Top 8 Core Values and Key Accountabilities of Project Managers
Discussed below are the core competencies that make an individual worthy of his or her project manager designation. Aspirants in this domain must go through these core values to imbibe them.
They focus on customer needs:

The single biggest factor for a project's success is whether it delivers what the customer needs. The tricky part is that when customers state their requirements, it may express what they want rather than what they actually need. Highly successful project managers uncover the customer's true needs

They build a great team:

The team is the project's biggest asset, and highly successful managers know that. They nurture it and want to understand each person's strengths and motivators. To encourage the team they don't tell people what to do but coach them to find the right solutions and to make decisions on their own.

They delegate:

Highly successful project managers have learned that the way to add maximum value – and fully leverage the team – is to delegate anything that can potentially be done by someone else. In delegating, not only do they develop the team's skill-set, but they also free themselves up to focus on the important, such as customer relationships, communication, leading and motivating the team, de-risking the project, and setting the vision.

They challenge the status quo:

It is no longer enough to turn up for work and deliver a project the way we used to. Highly successful project managers are mindful of how they can deliver change in better, cheaper, and faster ways. They challenge the status quo to assess what new technologies can be employed, which extra benefits can be delivered, and how processes can be improved.

They have a strategic outlook:

The most sustainable projects are those that add value, not just in the short term, but also in the long term. It is not enough to deliver a project on time, to cost, and to the expected quality – although that's a great start.

They strengthen buy-in to the project:

Highly successful project managers build great relationships of trust with the project's stakeholders. In doing so, they focus their attention on those stakeholders who have the most power and influence over the project – and especially those who are not supportive of the initiative.

They control risks, issues and changes to scope:

A large part of successful delivery is keeping risks, issues, and changes under control. Highly successful project managers instill a risk-awareness culture in the team by consistently asking people what they worry about, what is impeding their work what could potentially go wrong.

They deliver on their promises:

It is essential for successful delivery that managers are credible and that clients and stakeholders trust them. Highly successful project managers do what they say they will – also when it comes to chasing other people for the actions they take on.
What Are The Traits Of An Ideal Project Manager?
The aforementioned competencies are influenced by the following traits:
Interpersonal communication
Efficiency in interpersonal communication is the secret to considering others' feedback. This enables a project manager to make the best business decisions. He acts as a bridge between the team members, stakeholders, and clients. Transparency in the process of inception and execution of tasks leads to a project. Thus, one must develop this trait.
Effective negotiation
This is another must-have quality of a project manager. He must have the power to look after the interests of others without compromising on project quality or delivery. The ability to negotiate becomes essential in several situations. Say, a project manager convinces the functional manager to rope in any expert into the team to accomplish a certain task.
Conflict resolution
A project manager must be adept at resolving conflicts between team members at the earliest. Even the slightest discord among them impacts their actions that ultimately affect the project. A project manager's responsibility is to ensure that such occasions never arise.
Ensure team commitment
At the initial stages of project planning, the project manager must establish healthy relations within the team. This is to infuse them with a spirit of commitment throughout the project's life cycle. A project manager keeps the team off from constant conflicts regarding personality issues by clearly defining the project's end objectives.
Total employment for project managers will increase by 60% in India, 33% in China, and more than 40% in the UAE. To get well-versed in these characteristics, aspirants can undertake PMP Certification Training. After all, a project result is the output of a joint effort. The manager is there to keep this effort alive through peaceful coordination.
Unichrone specializes in providing Project Management certification training courses such as PMP Certification, PRINCE2 Certification Training, CAPM Certification Training, PGMP Certification, PMI-RMP Exam Prep Training , PMI-ACP Certification Training.