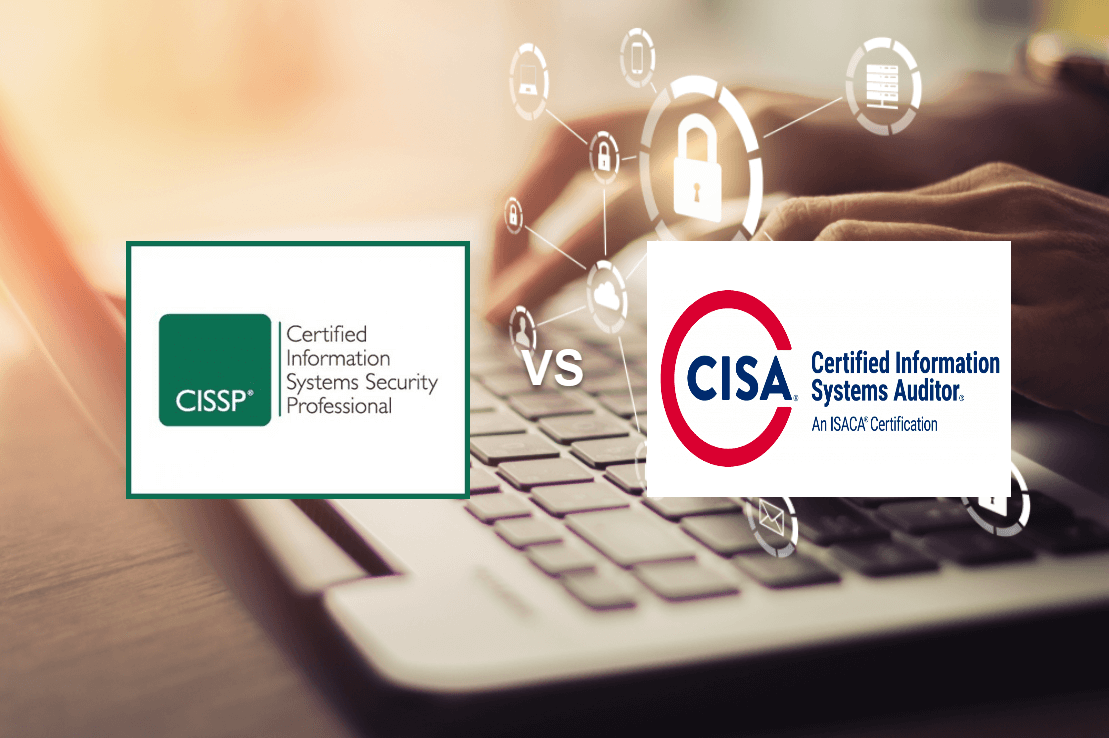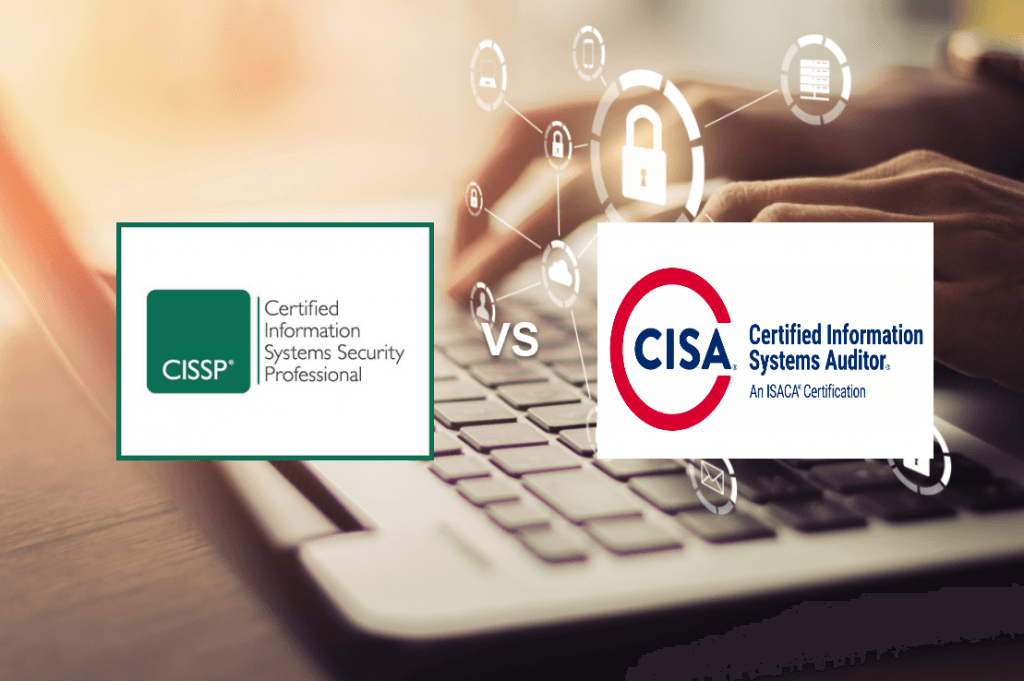 The CISSP and CISA Certification is the IT department's most esteemed credentials. ISACA's CISA Certification covers the auditing principles of information security, while ISC2's CISSP Certification emphasizes on security issues of Information security. However, both the credentials cater to Information Systems and have different levels of significance in their relevant field. Let us have a look at few differences between CISSP vs CISA to understand which certification is best for you.
What is CISSP Certification?
CISSP stands for Certified Information Systems Security Professional. The CISSP Certification is provided by International Information System Security Certification Consortium (ISC2). Individuals who look forward to attaining prestigious credentials in data security can pursue CISSP certification by fulfilling the necessary requirements set by ISC2.
What is CISA Certification?
The Certified Information Systems Auditor Certification is provided by Information Systems Audit Control and Association (ISACA). It was designed to certify professionals in IT Auditing. The credential is considered as one of the benchmark certifications in the Information Security auditing field. The CISA Certification focuses more on the governance aspects of information security rather than technical aspects.
CISSP vs CISA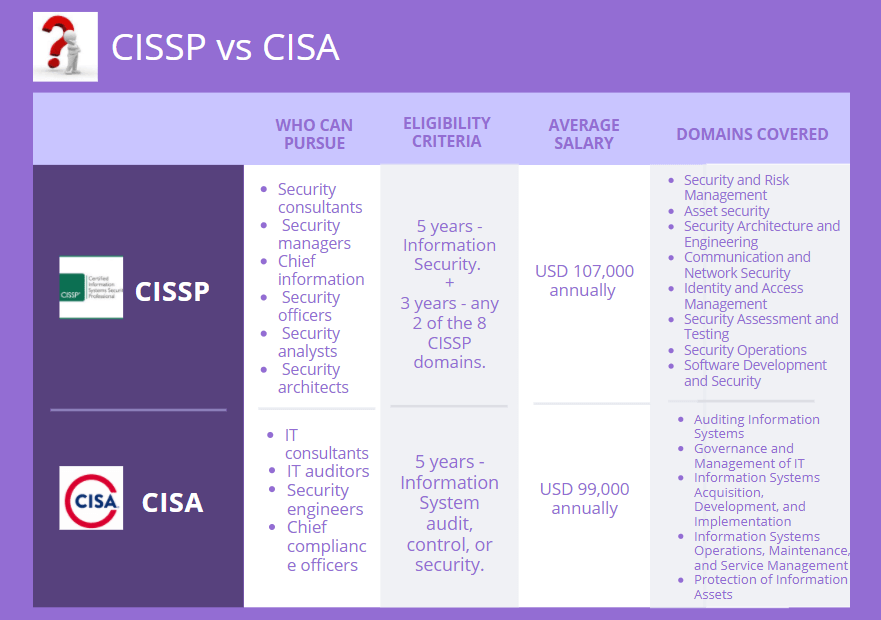 CISSP vs CISA: Who can pursue
The CISSP Certification is pursued by security consultants, security managers, chief information security officers, security analysts, security architects, and individuals who meet the information security experience requirements.
The CISA Certification is usually preferred by IT consultants, IT auditors, security engineers, chief compliance officers, and professionals who meet the eligibility criteria set by ISACA.
CISSP vs CISA: What are the eligibility criteria?
The CISSP Certification requires individuals to gain 5 years of experience in Information Security. In addition, aspirants need to have paid work experience in any 2 of the 8 CISSP domains for at least 3 years.
One year of experience can be waived off if the individual owns a 4-year bachelor's degree or a credential from ISC2 approved list of certifications. Furthermore, individuals who don't have experience can become an associate of ISC2 by passing the exam and acquire the credential by meeting the experience requirements within 6 years of becoming an associate.
CISA Certification on the other hand requires individuals to gain 5 years of paid experience in Information System audit, control, or security. In addition, aspirants can waive off at least 3 years of the 5 year requirement by:
Having 1 year of experience in Information System or IS audit
60-120 completed university semester credits (2-year or 4-year degree or its equivalent), and
Master's degree in information security or IT from an accredited university.
CISSP vs CISA: What is the average salary?
The average salary of a CISSP professional is USD 107,000 annually which is significantly more than the packages earned by non-certified professionals in the field.
Certified Information Security Auditors earn an average salary of USD 99,000 annually. However, the salary packages can differ in terms of experience an individual has and the country he/she is residing in.
CISSP vs CISA: What are the domains covered?
The Certification of CISSP is infused with technical as well as managerial aspects while implementing and managing state-of-the-art information security programs for organizations. Professionals owning the CISSP Certification need to align the policies and procedures involved in information security with the objectives of a business. This assists in securing the information assets of the organization as required. The following is a list of the domains that the CISSP covers:
Security and Risk Management
Asset security
Security Architecture and Engineering
Communication and Network Security
Identity and Access Management
Security Assessment and Testing
Security Operations
Software Development and Security
CISA Certification demonstrates the importance of evaluating the information security program instilled within the organization. Certified Information Systems Auditor performs more technical tasks than a CISSP professional. Without auditing, professionals in IT security cannot determine whether the data is protected as per the expectations of the organization. The domains covered in CISA Certification are as follows:
Auditing Information Systems
Governance and Management of IT
Information Systems Acquisition, Development, and Implementation
Information Systems Operations, Maintenance, and Service Management
Protection of Information Assets
Final thoughts:
Technically CISSP and CISA credentials can not be compared as they cater to different elements of information security. Choosing the right certification depends mainly on the career goals of individuals pursuing the credential. Therefore, individuals who are more interested in auditing and control aspects of information security can take up CISA Certification. Individuals who are more inclined towards developing and managing an information security program for the organization can pursue CISSP Certification
Professionals pursuing a career in information security can take up CISSP Certification Course and those willing to broaden their knowledge of IT audit can enroll in CISA Certification Training offered by Unichrone. Our trainers have a vast knowledge of the field, thereby assisting in gaining professional insights into cybersecurity and master the latest techniques involved in securing the information assets of the organization.