The current remote working and hybrid work practices have changed the dynamics of modern organizations. More organizations are adapting to this new era of working from home, which was previously relevant to some organizations in the IT industries only. The global pandemic of COVID-19 is primarily responsible for the emergence of the remote work culture in organizations across all industries today. However, organizations already familiar with remote and hybrid work environments ensured compliance and fortified their work environment, including remote workspaces with ISO Standards like ISO 9001:2015.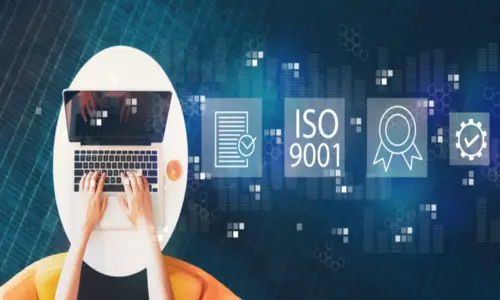 What is ISO 9001?
The International Organization for Standardization (ISO), a renowned developer of quality and security standards for organizations, has created the ISO 9001 suite of quality standards. The ISO 9001 standard is associated with QMS or a quality management system. Organizations that aim to certify according to the ISO 9001:2015 Standard ensure that they deliver products and services of the highest quality to their customers. It helps organizations maintain the quality of their products and services by keeping track of the entire business processes involved in production. The ISO 9001 compliance of an organization justifies that the organization's stakeholders are committed to the quality initiatives ISO prescribes.
ISO 9001 Standard is based on seven quality management principles, which are as follows:
Customer-oriented
Leadership and management
Engaging people
Process-based approach
Structured improvement
Relationship management
Fact-based decision-making
Organizations that build their QMS per the ISO 9001 standard follow the seven principles mentioned above of quality management. The ISO 9001 Certification of an organization signifies that they have an effective quality management system and consistently deliver products and services that meet customers' expectations. As a result, the organization earns recognition in the global market as an ISO 9001 Certified establishment. The remote work culture many organizations were forced to install due to the pandemic affects the effective implementation of ISO 9001. However, with adequate knowledge of specific best practices, remote work environments can ensure a suitable QMS.
Ensuring Compliance in Remote Workspace
An organization's QMS should ensure that employees have the best infrastructure for working remotely and the availability of optimum communication mediums for collaborating and troubleshooting. Organizations can do this by assessing their business needs and creating a strategy for QMS implementation. The ISO 9001 Clauses for remote workers provide the guidelines organizations must follow to evaluate, plan, and implement their quality management system in a remote workspace.
Here are the relevant clauses for ensuring ISO 9001 compliance in a remote work environment:
Clause 7.1.3 – Infrastructure
Infrastructure refers to the physical aspects of the work environment, like the space or building, equipment, and technology used for optimal functioning of all work-related activities. Organizations must ensure that all employees have adequate infrastructure to perform their tasks. It also includes eliminating risks associated with information technology and cyber security. Additionally, organizations can ensure security compliance by implementing an ISMS (Information Security Management System) following the guidelines mentioned in the ISO 27001 Standard.
Clause 7.1.4 – Working Environment
ISO 9001 states that a suitable work environment must consider physical and human factors, including the social and psychological aspects of the remote working space. While this would have been easy in an office setup where organizations can control and maintain the workspace's hygiene, airflow, and temperature. Fulfilling these criteria and ensuring a uniform work environment in the homes of various employees is practically impossible. The same is true for social and psychological factors. Thus, organizations can encourage employees to ensure a suitable workspace and interact with colleagues regularly to avoid work-related stress and burnout.
Clause 7.4 – Communication
Organizations must have an open communication model for encouraging and motivating their employees. They can support their remote workers by asking them about their needs and finding a suitable approach to caring for their employees' mental well-being. Solutions like access to educational and psychological support required for remote workers struggling in seclusion to perform their tasks can help organizations prioritize their employees and prove their commitment to ensuring the ISO quality standard.
Conclusion
Therefore, ISO 9001 plays a critical role in a remote workspace. Organizations can become ISO 9001 compliant by following the abovementioned clauses and strengthening their quality initiative even in a remote work environment. Professionals like an ISO 9001 Lead Implementers help their organizations maintain and implement the ISO quality standards. They know all the clauses and guidelines mentioned in the ISO 9001 suite of standards. These professionals assist their organizations in earning the ISO 9001 certification and gaining recognition worldwide for their commitment to quality.