Change is the only constant and applies particularly to the project management sector. Project management in modern workspace continues to evolve significantly with the introduction of emerging technology and management paradigms. Businesses must stay up with these developments to avoid risk failure. A decade ago, there were few approaches, fewer tools, smaller teams, and simpler projects. However, the pandemic era has accelerated changes in project management with long-term impacts. These changes pushed organizations to adopt innovative project management methods and generated new trends.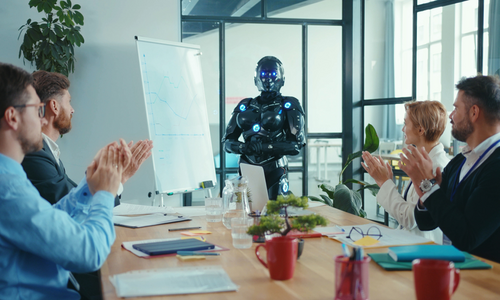 What is the future of Project Management?
Project management is becoming more prevalent across sectors as globalization shifts toward projects. The use of technology in today's businesses to organize, carry out, and maintain track of activities is encouraging for the future of project management. For instance, big data and artificial intelligence are utilized to anticipate risks effectively, while digitization technologies are employed to track developments remotely. These technologies have improved business management skills and impacted project management in the future. By 2030, 80% of management tasks will be automated, necessitating higher technical skill levels for managers in the future. The market for project management software is anticipated to increase at a CAGR of 13.1%, rising from $5.35 billion in 2022 to $20.42 billion in 2032.
Professionals are concerned that the increase in automation is expected to reach 80% by 2030, which would remove the need for project managers. However, technology will continue to change management while working with project managers. Management technology heavily relies on input from qualified professionals. Therefore, practitioners should have the right blend of skills, such as technical, leadership, and business management skills, to succeed in this profession. In 2027, it is predicted that companies will need to fill approximately 2.2 million new project-related roles annually. Therefore, rather than a complete transition to AI, the future of the project management in modern workspace requires professionals to have both technical and soft skills.
Future trends of Project Management
Artificial intelligence:
Businesses employ AI to automate manual project tasks, which significantly influence project processes. The digital organizational change, which began before the epidemic started, is now the norm, claims PMI. Modern businesses rethink their fundamental business strategies to stay competitive in a shifting industry. According to PMI, businesses will continue to invest in AI for various functions, including risk management, decision-making, knowledge management, and data analysis. AI analyzes client data to find patterns and correlations and recommends which product features are most likely profitable. These insights increase an organization's competitiveness by discouraging participation in poorly planned, high-risk ventures.
Remote work:
Due to safety concerns, the global pandemic drove businesses to allow employees to work remotely. However, this trend will continue in the future. Due to the remote working culture, businesses can acquire from a more extensive and international talent pool that is easily and affordably available through contracts. They also spend less on other administrative expenses like travel and office space. However, investing in advanced cloud-based solutions for tracking jobs and projects effortlessly in a remote setting is important. In general, remote work options further allow businesses to stretch their budgets and increase productivity.
Hybrid Approach:
Hybrid project management, one of the most recent trends in PM, combines diverse elements from two or more distinct project management methodologies. They are combined to provide a completely new approach that would satisfy all project objectives. By implementing hybrid models, all communications, tasks, and projects are centralized and aligned with the organization's objectives. A survey found that 60% of organizations have used either other project approaches or a combination of waterfall and agile. The hybrid model allows one to formulate their own formula for a project's success. Some popular hybrid approaches include Six Sigma, Critical Path Method (CPM), Agile Project Management, and Waterfall Project Management.
Demand for Skills:
Due to the evolution of project management, more than gaining an advantage in the job market just through education and experience is required. Businesses are stressing soft and digital skills, asking project managers to develop those abilities to keep themselves viable to organizations as repetitive portions of the work are replaced by AI technologies. The following talents are prioritized by businesses in their talent pool to enable successful initiatives: Soft skills such as conflict resolution, stakeholder engagement, negotiation, mentoring and training, decision-making, and team building. Digital skills include data analysis, analytics and management, security and data protection, legal and regulatory compliance, online collaboration and leadership, knowledge management, and data-driven decision-making.
Data and Analytics:
Modern project management depends heavily on data, administration, and analytics. Managers use data insights to help them make smart decisions and advance the company. Big Data analytics is a rapidly advancing trend in project management. It is utilized in many domains, including client management, quality control, risk assessment, and project scheduling. It significantly impacts the project team's understanding of team composition, size, people to include, and skill sets needed for effective project management. Project managers need to forecast project success and be better guided throughout the project life cycle to meet the need for enhanced project results.
As such, to keep up with these ever-changing data trends, excel training with Acuity Training would serve as a good refreshing session for managers that want to future-proof their projects.
Conclusion
AI and data analysis are two examples of recent advancements that have improved teamwork and outcomes for project management in modern workspace. Other trends, such as the growing emphasis on teamwork and soft skills, highlight the importance of the human aspect in effectively completing projects. Additionally, these trends in project management aid project managers in comprehending the measures required to boost operational effectiveness. Therefore, holding a PMP Certification helps professionals advance their careers and boost their earning potential. Candidates interested in earning this certification can enroll in PMP Certification Training. Professionals who complete this training can better comprehend and use these trends and skills in the workplace.