Organizations are embracing the Lean Six Sigma approach to increase the efficacy and efficiency of organizational processes as they deal with escalating competition and evolving client demands. Value Stream Mapping is one of the tools that organizations frequently utilize in Lean Six Sigma. Value stream mapping offers a visual representation of the organization's material and information flow. It assists in identifying, demonstrating, reducing waste, and creating efficient flow throughout all the processes in the manufacturing organization.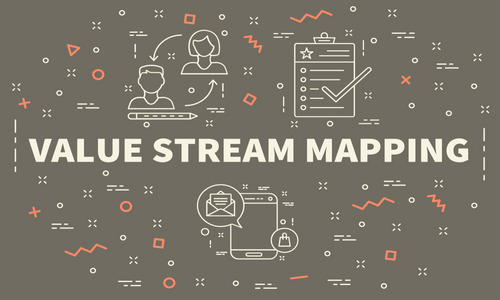 What is Value Stream Mapping?
Value stream mapping is one of the essential Lean Six Sigma tools/techniques used to create a comprehensive representation of organizational processes. It analyses the stages and information flow from the origin to the customer's delivery point. Value stream mapping is helpful in any sector or line of work where products must transit through several departments and stages before being delivered to the customer.
Value stream mapping improves workplace productivity by combining information flow, material processing procedures, and other critical related data. Additionally, it aids users in developing a solid implementation strategy that will maximize their available resources and ensure that resources like time and materials are used effectively.
Four Elements of a Value Stream Map
Value stream mapping is categorized into the following four components:
Customers
Customers are the first element to be represented on the value stream map. Value stream maps begin at the shipping point and move upstream. Professionals must add a data box detailing the client's desire while designing the customer symbol on the map, which is utilized to determine the Takt time. This gives the business the frequency of unit production needed to meet client demand. Value Stream Maps are essential in relation to product cycle times. If the Takt time exceeds the cycle time, a bottleneck or limitation must be removed.
Product Flow
The product flow shows the several phases of material processing required to transform raw materials into finished goods. It depicts the movement of the material during the process. How do the raw materials or purchased components become a completed product that can be sold to the customer?
Information flow
The information flow controls the product flow. This explains how the procedure is managed. It consists of elaborate detail of how information flows. Information flows further update what is the next task and when it has to be done.
Supplier
Suppliers should be the next item pros should depict. However, it is not required to depict each provider separately on the map. Sometimes it is more effective only to specify one provider per kind. This might be done according to geography, capturing each American, European, and Asian supplier to at least cover the main incoming material flow pathways.
How is Value Stream Mapping used in Different Fields?
Value Stream Mapping can be used to reduce waste in a wide range of industries. Here are some instances of how VSM is applied across various sectors.
Manufacturing: Value Stream Mapping has been used by manufacturing businesses of all types and sizes to identify inefficiencies. Manufacturers can identify bottlenecks and procedures that can be changed to increase overall efficiency and production by outlining every stage of the manufacturing process, from the supplier all the way to the customer.
Supply chain and logistics: VSM can highlight the time-consuming or costly processes that can be eliminated or replaced. Product delays can be reduced by locating the source of waste and expensive delays at various stages in the supply chain.
Software development: VSM assists in identifying vulnerabilities in software development, from design to delivery, including rework and feedback systems. Additionally, it aids in improving efficiency by cutting down on revisions or waiting times between phases.
Healthcare: Inefficiencies in each operation carried out in hospitals can be found by creating a value stream map. Hospitals and clinics may spot any bottlenecks that develop from the time a patient enters the facility to the time the patient leaves by using an efficient value stream map.
Finance: outlining the many value streams within a financial institution allows the organization to identify expenses associated with each process and identify high-performing and weak areas.
Conclusion
A value stream map is a crucial tool in six sigma. It outlines each significant step in the workflow required to deliver value from beginning to end. Additionally, it enables management to quickly see the status of each assignment and visualize every job the team completes. The value stream map illustrates each key stage of the process and assesses whether it adds value from the perspective of the consumer or not. Professionals can enroll in Value Stream Mapping Training to thoroughly understand how to create and use a value stream map. Training helps professionals learn the fundamentals of creating a Value Stream Map and applying it to enhance their organization's business operations.