June 27, 2018
Are you Eligible for Agile PMI-ACP Certification?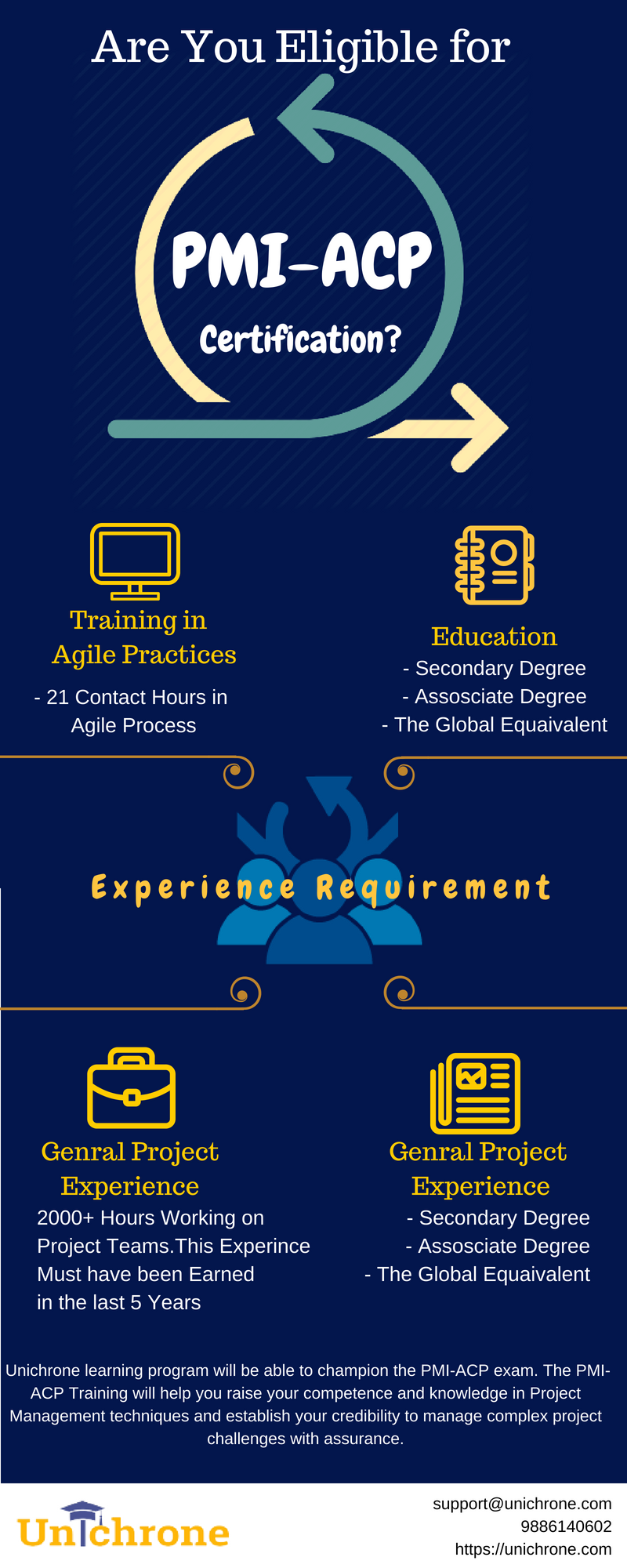 The PMI Agile Certified Practitioner (PMI-ACP)® formally recognizes your knowledge of agile principles and your skill with agile techniques. It will make you shine even brighter to your employers, stakeholders and peers.
The PMI-ACP® is our fastest growing certification, and it's no wonder. Organizations that are highly agile and responsive to market dynamics complete more of their projects successfully than their slower-moving counterparts — 75 percent versus 56 percent  as shown in our 2015 Pulse of the Profession® report.
The PMI-ACP spans many approaches to agile such as Scrum, Kanban, Lean, extreme programming (XP) and test-driven development (TDD.) So it will increase your versatility, wherever your projects may take you.
Who Should Apply?
If you work on agile teams or if your organization is adopting agile practices, the PMI-ACP is a good choice for you. Compared with other agile certifications based solely on training and exams, the PMI-ACP is evidence of your real-world, hands-on experience and skill.
Eligibility Criteria for PMI-ACP Certification Exam : 
Training in  Agile Practices

: – 21 Contact Hours in  Agile Process

Education :

 – Secondary Degree or Associate Degree or  The Global Equivalent

Experience Requirement:

General Project Experience: 

2000+ Hours Working on Project Teams.This Experience  Must have been Earned in the last 5 Years

General Project  Experience:


– Secondary Degree
– Associate Degree
– The Global Equivalent
Unichrone learning program will be able to champion the PMI-ACP exam. The PMI-ACP Training will help you raise your competence and knowledge in Project Management techniques and establish your credibility to manage complex project challenges with assurance.