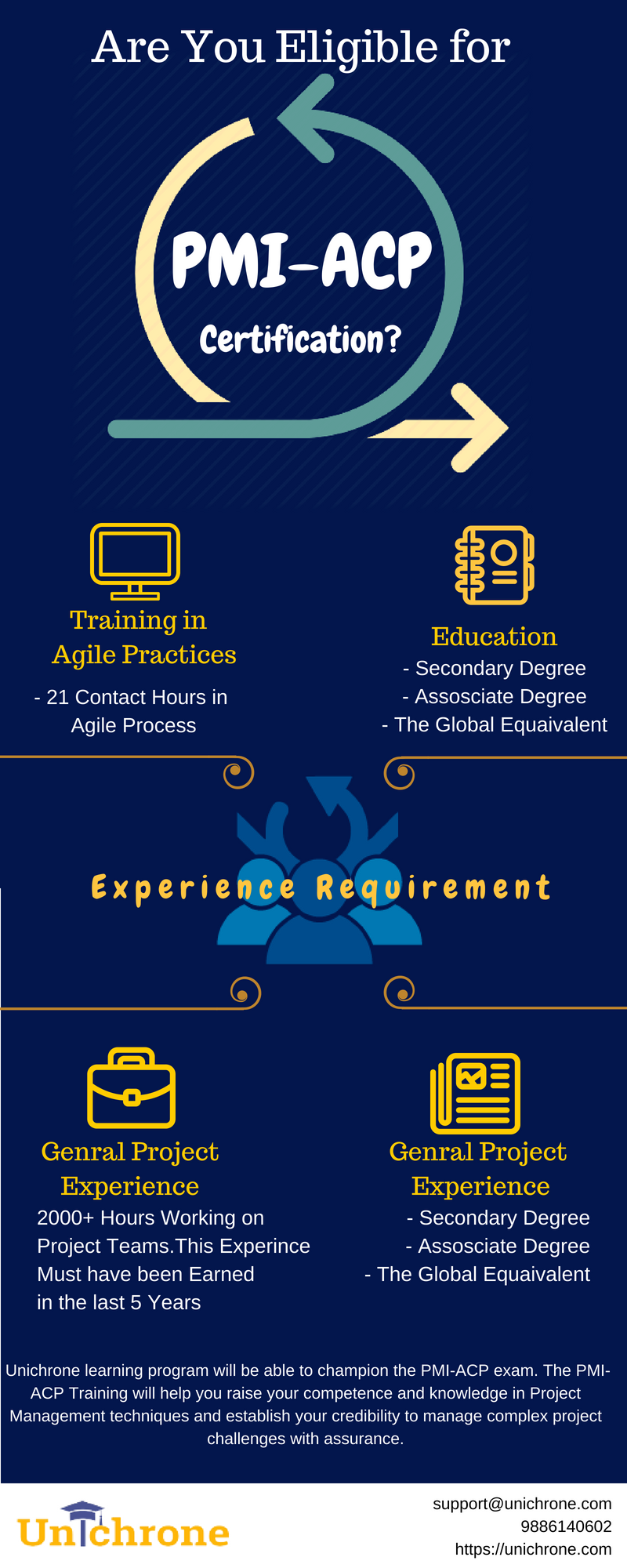 According to the PMI survey, 71 percent of organizations worldwide employ agile project management methodologies. So it's no miracle that PMI ACP Certification is the fastest emerging certification among others. The PMI Agile Certified Practitioner (PMI-ACP) Certificate formally validates applicants' understanding of agile concepts as well as their ability to use agile practices. It allows them to shine even brighter in the eyes of their employers, stakeholders, and colleagues. The PMI-ACP spans many approaches to agile such as Scrum, Kanban, Lean, extreme programming (XP), and test-driven development (TDD.) Therefore, it increases professionals' versatility in managing projects.
Who Should Apply?
Agile Certified Practitioner (ACP) Certification is provided by PMI to assist project managers in handling agile projects. The certification demonstrates that an individual has acquired the skill set to manage agile projects. Also, the credential is internationally recognized offering ample opportunities for PMI-ACP aspirants.
PMI-ACP Certificate is intended for Project Managers, Program Managers, Product Owners, Scrum Masters, Team Leaders, Project Controllers, and IT Managers that have considerable expertise in Agile techniques and general project experience.
Eligibility Criteria for PMI-ACP Certification Exam
The PMI ACP Exam assesses the practitioner's expertise in Agile project management practices and professional flexibility in project management tools and approaches. Unlike other agile certifications that are primarily focused on training and exams, the PMI-ACP demonstrates applicants' real-world, hands-on experience and expertise.
Training in Agile Practices
PMI requires candidates to undergo a 21-hour training on agile practices. There is no timeline attached to this criteria, as applicants can document all agile project management education, regardless of when it was obtained. However, it should be done prior to the examination. Attending training helps applicants to get the requisite understanding of agile principles, processes, and policies, allowing them to pass the ACP Exam.
Education
PMI ACP education requirements include a high school diploma or a secondary degree or an associate's degree or anything that is equivalent to these globally.
Experience Requirement
ACP experience requirement is a mix of both general project management experience and agile project management experience.
Agile project management experience: Candidates should have work experience for eight months or 1500 hours on agile projects or with agile teams. .
General project management experience: Candidates must have at least 2000 hours or 12 months of general project experience.
A candidate must meet the experience requirements in the last 5 years from the year of taking the ACP Exam.
What is PMI ACP Exam all about?
Exam domains
Agile Certified Practitioner Exam covers 5 major domains:
Value-Driven delivery

Team Performance

Adaptive Planning

Continuous Improvement
Exam format
The PMI administers the PMI-ACP examination. It comprises 120 multiple-choice questions and lasts 3 hours. Of the 120 questions, 20 are pre-test questions, while the remaining 100 are taken into account for the final score.
Exam fee
The cost of PMI ACP for a PMI member is $435 and for a non-member is $495. Candidates can retake the exam 3 times a year and the re-examination fee is $335 for PMI members and $395 for non-PMI members.
Candidates should ensure to meet ACP Exam requirements set by PMI. In order to register for the exam, candidates have to log in to the PMI website. On registering the account candidates need to enter contact and education qualification. Thereafter, professionals can log their general and agile work experience as well as training hours. The application can be submitted for PMI approval along with payment on furnishing all the details.
After getting verification email from PMI, candidates can schedule the exam at the PMI website by clicking "You may now schedule your PMI-ACP examination" and selecting "Schedule Exam". On being directed to the next screen search for a test center and check for availability. However, candidates taking an online proctoring exam do not need to choose a test center. Candidates can then select a day and time, and then check out. PMI will send candidates an email confirming their schedule.
Conclusion
PMI ACP is a prestigious certificate that validates candidates' knowledge and skill in managing the agile project in an organization. It demonstrates their ability in managing challenging projects along with the use of agile tools and techniques. Furthermore, it offers a wide range of job opportunities and a better salary. Enrolling in PMI-ACP Training helps candidates raise their competence and knowledge in project management techniques and establish their credibility to manage complex project challenges with assurance.