August 12, 2021
The Career Path of a Business Analyst in 2021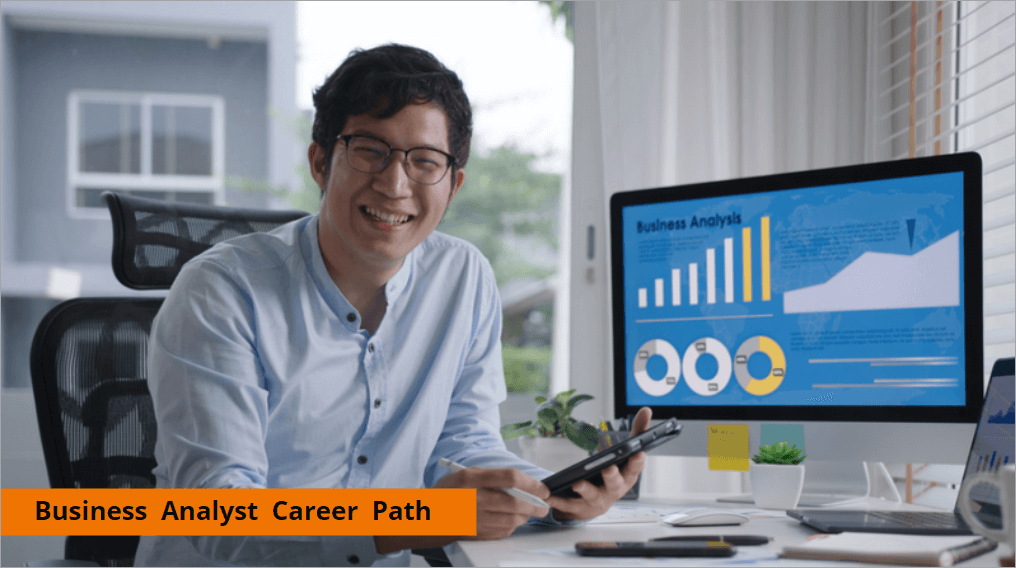 Business Analyst Career Path
Organizations worldwide are constantly striving to achieve better results and perform well in the competitive global market. Business enterprises rely on qualified professionals like business analysts to make the process somewhat easier and faster.
Business analysts can help the business attain its goals and objectives. They assist their organizations in making smart decisions by using informed data analysis. Thus, making them an important part of a business organization.
A career as a business analyst is rewarding and beneficial, especially in 2021. To understand the career path of a business analyst better we must first discuss what business analysis is all about and the roles of a business analyst.
What is Business Analysis?
The discipline of business analysis focuses on identifying the requirements of a business and forming strategies to help the business thrive. It uses data to make informed decisions that improve the efficiency of a business. This also includes reporting the progress to the business executives and stakeholders. Business analysis helps enterprises assess their business processes and ensure that they are in line with the objectives of the business.
Who is a Business Analyst?
A business analyst is responsible for the application of business analysis in an organization. They are the change agents who have multiple responsibilities. From identifying problems in the business process to aligning the business with the latest technology, their roles encompass everything.
Business analysts have multiple roles and responsibilities in a business enterprise. Some of the most important duties of business analysts are listed below:
Identifying the business needs and requirements
Aligning the business requirements with the business goals
Understanding the stakeholders as well as customer's needs
Bridging the gap between the business and its IT needs
Solving business problems
Designing solutions that meet the business objectives
Thus, these professionals have a varying skill set including the knowledge of IT as well. They can oversee the entire business process from a wide perspective and offer their inputs accordingly. Business analysts can assist managers in improving business efficiency by reducing costs and increasing profits.
Why choose a career as a Business Analyst?
As business analysts, professionals can work in business organizations and improve their overall productivity. They can work anywhere, in any industry like finance, telecommunication, banking, insurance, government, services, etc.
The competitive market of today needs professionals like business analysts to help businesses thrive. They can keep track of technological advancements and help navigate business enterprises to attain organizational objectives.
For individuals interested in supporting their organization by working closely with the stakeholders, identifying, and solving problems, a career as a business analyst is the right choice. Along with excellent communication skills, business analysts have good analytical skills too that help them give data-driven insights to improve the business.
Job and Salary Prospects of a Business Analyst
There is a growing demand for knowledgeable and skilled business analysts in recent years. According to the Bureau of Labor Statistics (BLS), there will be a rise of 11% in new business analysts' jobs between the years 2019 to 2029. These roles include management analysts, and IT-based roles like computer systems analysts, operations research analysts, data analysts, technical business analysts, and other similar roles.
The average annual salary for a business analyst according to Glassdoor is more than $80,000, globally. This can increase or decrease accordingly based on the location or the experience level, around the world.
With the right education, experience and professional trainings, business analysts can get the job position they desire in any enterprise across various industries. They act as management consultants and help businesses increase their revenue further.
Business Analyst's Career Path
The Project Management Institute-Professional in Business Analysis (PMI-PBA) Certification is aimed at individuals or professionals interested in starting their career as Business Analysts. This certification offered by PMI is one of the highly reputed credentials a business analyst can opt to start their career in business analysis.
There are many advantages of earning a PMI-PBA Certification including recognition across major organizations around the world. The credential can fetch better compensation for business analysts and enhance their promotability.
With the help of the industry-recognized certification, these professionals have a better chance of improving their career prospects. Unichrone offers international standards training and certification in PMI-PBA to aspiring business analysts. Our course module and self-assessment tests prepare candidates in clearing the certification examination and become certified business analysts.
Business analysts can use this certification and training to demonstrate their core skills and knowledge. It will also help them in implementing their learnings in practice. They can help improve their organization's business processes by applying their managerial and analytical skills.
Conclusion
Therefore, we can conclude that a career as a business analyst has many benefits. This career provides them all from becoming the agent of change in the business enterprise to rising higher in the job hierarchy.
Business analysts have advanced business acumen, excellent communication skills, technical and analytical skills to identify issues, and solving problems. They can work independently and act as consultants for businesses. The future of a certified business analyst looks bright, especially in the coming years.