ISO 27001 Certification confirms that a business has taken proactive and preventive measures to protect client's confidential data.
The following can be pointed as few of the advantages of getting ISO 27001 certification:
Proof of security to third parties (for clients, partners and legal purposes)
Competitive advantage; Confirmed procedure in place
Knowledge and monitoring of IT risks
Documentation of structures and processes
Increased employee security awareness
Ability to prioritize business processes based on business continuity and information security requirements Recognized globally
How to obtain ISO 27001 certification?
The ISO/IEC 27001 certification, like other ISO management system certifications, usually involves a three-stage audit process.
Stage 1 is a "table top" review of the existence and completeness of key documentation such as the organization's security policy, Statement of Applicability (SoA) and Risk Treatment Plan (RTP).
Stage 2 is a detailed, in-depth audit involving testing the existence and effectiveness of the information security controls stated in the SoA and RTP, as well as their supporting documentation.
Stage 3 is a follow-up reassessment audit to confirm that a previously certified organization remains in compliance with the standard. Certification maintenance involves periodic reviews and re-assessments to confirm that ISMS continues to operate as specified and intended.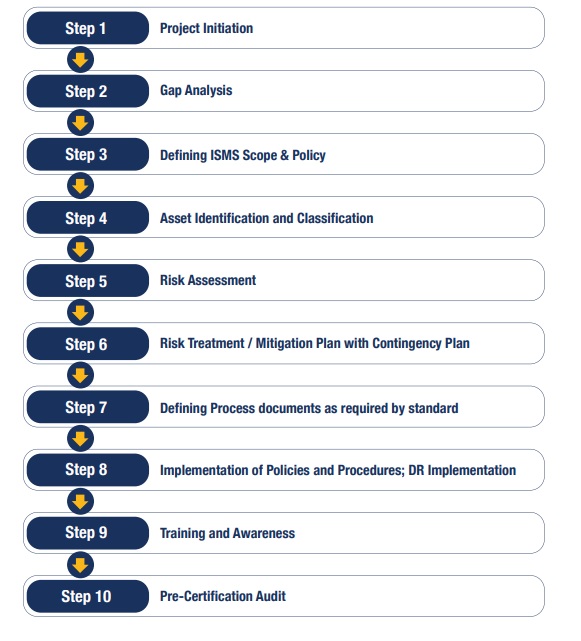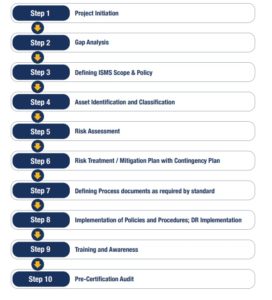 Unichrone delivers ISO 27001 Lead Implementer Training Certification in both Classroom and Live Online Classroom modes. ISO 27001 Lead Implementer Training is available across the world.