ISO 27001 Certification confirms that a business has taken proactive and preventive measures to protect client's confidential data.
The following can be pointed out as few of the advantages of getting ISO 27001 certification:
Proof of security to third parties (for clients, partners, and legal purposes)
Competitive advantage; Confirmed procedure in place
Knowledge and monitoring of IT risks
Documentation of structures and processes
Increased employee security awareness
Ability to prioritize business processes based on business continuity and information security requirements Recognized globally
How to obtain ISO 27001 certification?
The ISO/IEC 27001 certification, like other ISO management system certifications, usually involves a three-stage audit process.
Stage 1 is a "table top" review of the existence and completeness of key documentation such as the organization's security policy, Statement of Applicability (SoA), and Risk Treatment Plan (RTP).
The next stage is a detailed process consisting of an in-depth audit to test the existence and effectiveness of the information security controls stated in the SoA and RTP, as well as their supporting documentation.
Finally, the last stage is a follow-up reassessment audit to confirm that a previously certified organization remains in compliance with the standard. Certification maintenance involves periodic reviews and re-assessments to confirm that ISMS continues to operate as specified and intended.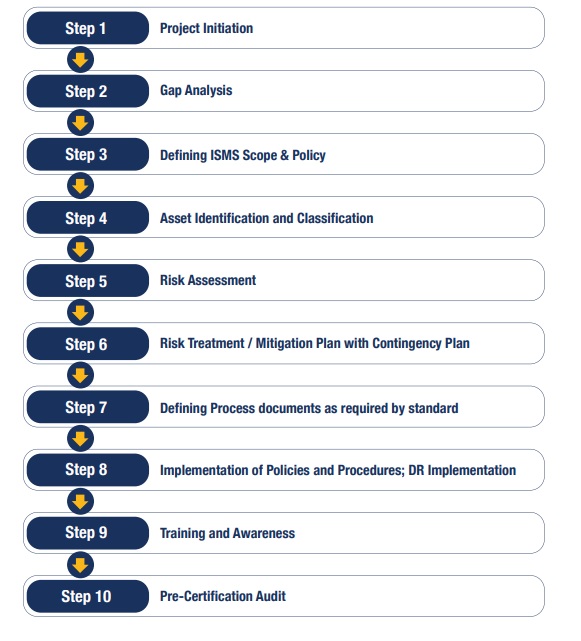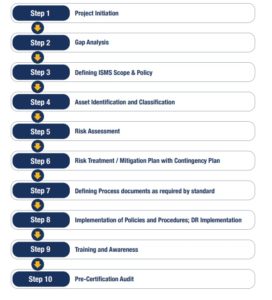 How Does An Organization Benefit From ISO 27001 Certification?
An ISO 27001 Certification is binding on an organization to identify any information security gaps.

This certification is evidence of the enterprises' resistance level to data privacy vulnerabilities.

It facilitates easy maintenance of the organizational ISMS, and at affordable costs.

Assures removal of bottlenecks from time to time in an enterprise's security processes.

The concerned ISO regulations compel an organization to update its functional hardware and software as and when needed.

An ISO 27001 Certification saves an organization from reputational damage.

ISMS refrains from allowing information access to unauthorized applications, people, and processes.

Certified enterprises assure data protection in an error-free manner.

Data encryption, multi-factor authentication, security tokens, and other technological controls operate in ISO-certified organizations.

They resort to disaster recovery remedies through the addition of backups.

ISO 27001 certification gifts business continuity and reduced data loss to enterprises.

This accreditation is proof of an organization's structured approach to maintaining and implementing ISMS.

Certification affirms that a third party which is the certification provider is responsible for a company's security posture assessment.

An organization earns the increased trust of consumers, stakeholders, and partners.

By getting ISO 27001 Certified, an organization doesn't need to follow separate rules for other legislative requirements.

This saves an organization from missing out on any directives of other regulatory bodies. It doesn't lose any money by paying heavy fines otherwise caused due to failure in observing a particular regulation.
How To Maintain ISO 27001 Certification?
There are several steps that a company must go through to maintain its ISO 27001 credentials.
Updating the staff members about the new changes the company must adapt to following an ISO 27001 accreditation. The management must seek their cooperation for establishing clear expectations in terms of catering to the ISO criteria forever. Identifying the appropriate secure buy-in and stakeholders also matters here.

Secondly, risk prioritization, classification, and analysis are important. These help in mapping security controls according to ISO 27001 risk criteria. Risk analysis detects the risks related to individual business areas and helps in determining the associated weakness areas.

The company must update its ISO security policy with the risk mitigation methods it decides upon. This not only helps in securing the accreditation but also conveys the enterprise's information security plan to its stakeholders.

An organization's ISMS must determine clear standards for observing the risk controls in business practices. This involves the initiation of efficiency and performance indicators that makes the enterprise focus on its end goals.

Apart from introducing the changes in operations as per risk controls, the organization's ISMS must change the work culture accordingly. It should invest in training the employees who try to resist such change at first.

A business is subject to changing risk patterns as its systems and processes keep evolving with time. Therefore, it needs to constantly adjust control methods in response to the changing behavior of risks.

ISMS of an enterprise must uncover its vulnerabilities regarding data security through an audit session before the certification audit. It should also arrange for external audits at intervals to maintain its ISO certification.

Renewal of an ISO 27001 Certification depends on the success of these monitoring audits. Information security management should be an ongoing journey for ISO-certified companies.
Unichrone delivers ISO 27001 Lead Implementer Training Certification in Classroom and Live Online Classroom modes. ISO 27001 Lead Implementer Training is available across the world for individuals to learn and spread security risk awareness. Trained professionals are sought after by diverse industries where they can lend a hand in enhancing information security for businesses.