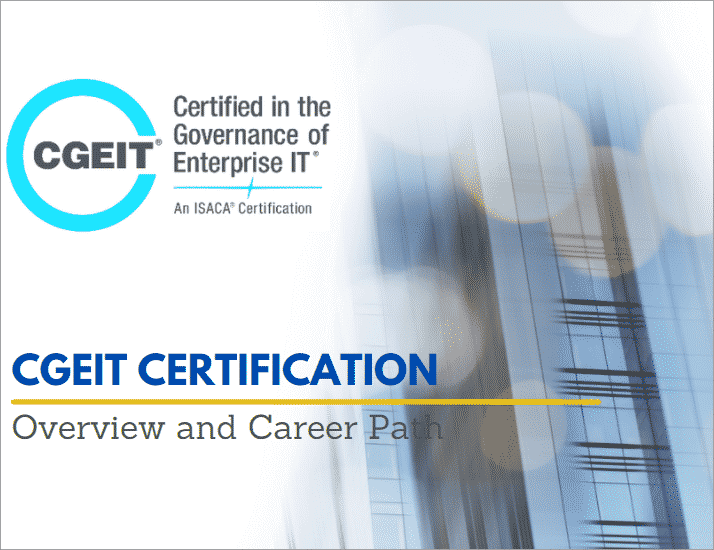 What is CGEIT?
CGEIT is the acronym for Certified in the Governance of Enterprise IT. It is the most esteemed certification offered by Information System Audit and Control Association (ISACA). Currently, professionals owning CGEIT Certification are offered the highest number of jobs in the IT sector across various platforms. The certification is aimed for experts in the field who have the potential to lead a large enterprise.
Individuals pursuing a career in managing IT governance can take up CGEIT Certification to enhance their career opportunities. Certified CGEIT professionals validate their skills by taking up responsibilities in various aspects of IT governance. Let us have a detailed look at the process involved in earning CGEIT Certification.
What is on CGEIT Exam?
The Certification of CGET can be acquired by meeting the prerequisites and passing the CGEIT Exam. Professionals need to focus on the four major CGEIT domains to gain knowledge and technical skills. The four major domains include:
Governance of IT
IT Resources
Benefits Realisation
Risk Management
Candidates need to attempt 150 multiple-choice questions based on these domains within 4 hours. ISACA members incur a cost of USD 575 while non-ISACA members incur a cost of USD 760. The minimum passing score to clear the exam is 450 out of 800 points. Professionals should clear the exam with the required passing mark in order to earn the CGEIT Certification.
What are CGEIT Certification requirements?
CGEIT Certification is an expert-level credential offered to individuals. The certification is designed for those who are interested in taking up executive positions in an organization. Being certified as CGEIT encourages you to manage the governance of the IT aspect of an enterprise. As a result, individuals need to fulfill the following requirements before taking up the certification.
CGEIT Certification requirements:
Minimum 5 years of experience in management, advisory role, or oversight role specifically in the governance of IT.
Out of the 5-year requirement, one year of experience in defining, managing, and establishing an IT governance framework is mandatory.
Remaining years of experience to be fulfilled in any two of the four CGEIT domains.
Candidates who do not have sufficient experience in the required fields can still take up CGEIT Exam. However, the CGEIT Certificate will not be awarded if all the requirements are not met within 5 years from the date of passing the CGEIT exam.
Apart from the experience requirements, candidates need to meet other requisites to remain CGEIT certified. Such requisites are:
Clear the exam with a score of 450 and above
Adhere to the code of professional ethics prescribed by ISACA
Adhere to the CPE policy for maintaining CGEIT Certification.
Who should earn CGEIT Certification?
CGEIT Certification is for individuals willing to pursue a career in IT, provided they meet the certification requirements. Some of these professionals include IT managers, IT analysts, IT directors, business professionals, and IT executives.
Attaining CGEIT Certification enables professionals to boost their salaries by 20%. A recent study reveals that CGEIT professionals as the highest paid individuals in the IT sector. As per ISACA, there are more than 8000 certified CGEIT professionals across the world. As a result, there is a huge demand for professionals willing to obtain the certification.
What is the process of acquiring CGEIT Certification?
Professionals interested in obtaining CGEIT Certification need to follow the following process:
Meet the CGEIT Certification requirements: Professionals need to fulfill the experience requirements and other such criteria as set by ISACA.
Get trained: Professionals need to enroll in CGEIT Certification Training program and get a comprehensive understanding of the concepts, policies, and practices followed in managing the governance of enterprise IT.
Take up the exam: On completing the training program, professionals can take up the CGEIT Exam conducted by ISACA.
Earn the Certification: Professionals who score the required minimum marks of 450 and above will obtain their CGEIT Certification from ISACA.
Maintain the Certification: Certified professionals should maintain and renew their certification by submitting Continuing Professional Education credits. They can earn these credits by taking up educational and professional activities approved by ISACA.
Is CGEIT Worth It?
Several organizations in the IT sector are relied upon to deliver high-value services. This has required complex regulations and laws to be established to protect the information assets. As a result, CGEIT Certification enables professionals to acquire a wide range of career prospects on a global scale. Furthermore, with CGEIT Certification professionals can pursue higher positions in their current organization and maximize their earnings.