ISACA, a globally renowned organization, developed Control Objectives for Information and Related Technology (COBIT). It strikes a balance between risk management and information technology governance. In addition, employs an IT strategy to help the company achieve its business objectives and provides internationally acknowledged concepts, methods, and analytical tools.
Importance of COBIT framework
COBIT is defined as a framework that helps businesses to govern and manage the IT department within the organization. Implementing COBIT plays a crucial role in achieving business success. This ISACA designed framework further enables businesses to align their IT processes in accordance with the goals of the business. In addition, COBIT framework ensures that the resources are optimally utilized and potential risks are mitigated. Applying COBIT has allowed various businesses to spend less on IT services secured internally by effective use of information technology.
The COBIT 5 approach entitles businesses to track their information assets using advanced methods. This empowers organizations to make better decisions and survive in the industry. With COBIT 5, businesses can streamline their IT and business processes for deriving more useful information. In order to apply the COBIT framework and realize its benefits businesses can recruit COBIT 5 Assessor and Implementers. Such certified professionals possess the advanced skill to implement the COBIT 5 framework as per the needs of businesses.
To achieve a balance between risk management and information technology governance, COBIT 5 framework has established five principles. These concepts may be applied to any business, regardless of size or sector, that employs COBIT 5 as a framework. Let's take a look at the COBIT 5 principles.
Cobit 5 Principles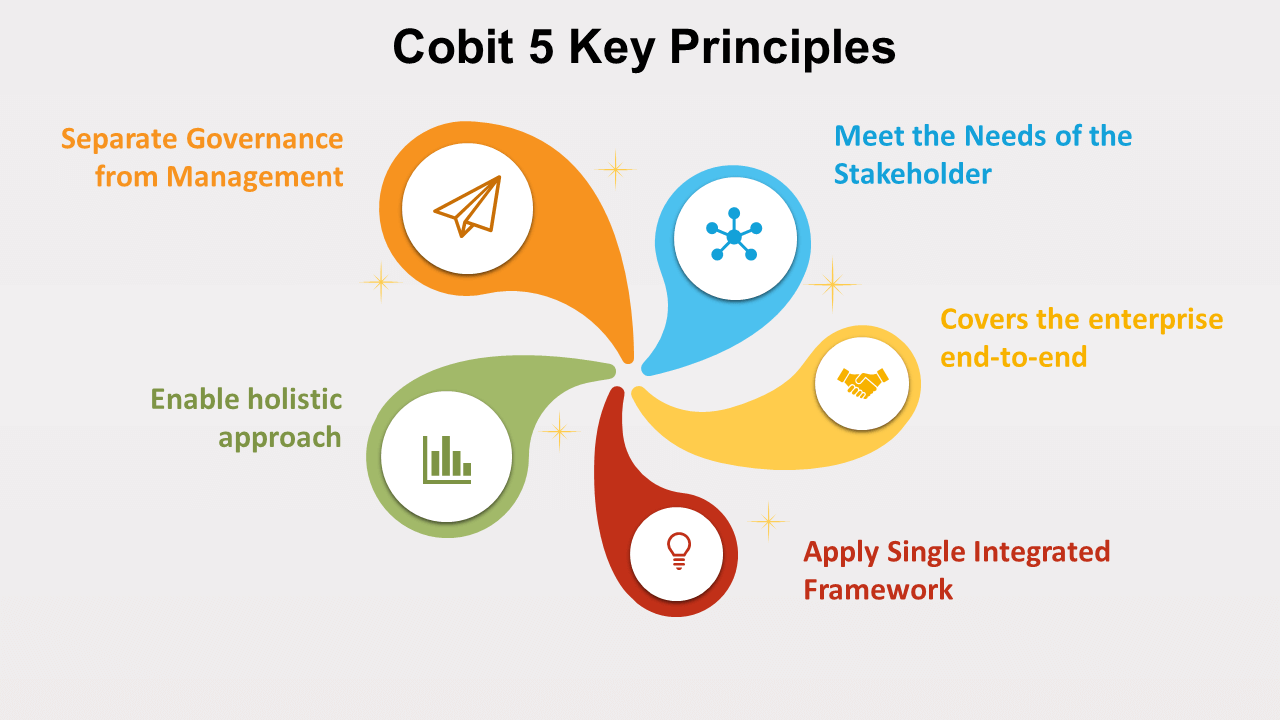 Meet the Needs of the Stakeholder
According to this principle, organizations should always prioritize stakeholder demands since they can only succeed if all their needs are satisfied. This principle focuses on stakeholder governance, negotiation, and decision-making in the case of conflicting stakeholder requirements. While making management and IT governance decisions, the company should consider how and which stakeholder would profit from the decision. Also, the risks faced by stakeholders should be listed in detail.
Covers the enterprise end-to-end
COBIT 5 combines IT governance with organizational governance in this principle, which encompasses all information and technology management processes. In addition, this approach combines even business processes and IT governance. As a result, COBIT framework enables the identification of any possible threats to the company.
The major four aspects of this approach are as follows:
Deciding on the project's scope
Assigning tasks, responsibilities, and roles
The goal of governance is to create value.
The enablers can select what will work collectively or individually.
Apply Single Integrated Framework
The organization can utilize COBIT 5 as a single integrated framework. Rapid changes of IT are necessitating organizations to meet the demands from stakeholders, suppliers, and consumers. As a result, the COBIT 5 framework enables organizations to have an integrated framework (which includes other applicable standards, techniques, and frameworks such as PRINCE2, TOGAF, ISO 27001, and others) that ensures consistency and coverage.
The reasons for COBIT 5 being a single integrated framework are as follows:
For both technical and non-technical terms of language, COBIT 5 acts as an integrated source of direction
COBIT 5 is consistent with standards and frameworks, such as ITIL and ISO.
COBIT 5 is a unique framework as it aligns all governance and management activities by inputting the latest relevant framework standards and methods.
Enable Holistic Approach
Organizations should consider the broader structure and processes of governance and management before making significant choices. Enablers are being used in COBIT 5 to help with governance and IT management. The major component that promotes the effectiveness of both government and IT-related activities is enablers. It may be used throughout the company, including all internal and external resources involved in IT governance and management.
Separate Governance from Management
In terms of activities, responsibilities, support system organization, and structure, the government and management are quite different. As a result, COBIT 5 separates the governance from management, implementing EDM for governance and PBRM for management.
EDM (evaluate, direct and monitor) ensures that the needs of stakeholders' objectives are evaluated, directed by prioritization, and monitored for performance.
PBRM (plan, build, run, and monitor) ensures and monitors the activities that are described in governance.
Conclusion
There are several advantages using the COBIT 5 framework and its principles in an organization. It improves the organization's efficiency and production. Furthermore, COBIT helps in protecting the information system of the organization. As a result, it is suggested that organizations use the COBIT 5 framework for successful governance and IT management. COBIT5 Assessor Training Course provides comprehensive knowledge to successfully implement COBIT5 framework in an organization. Therefore, professionals can get certified as COBIT5 Assessor to learn about the implementation of COBIT5 principles.