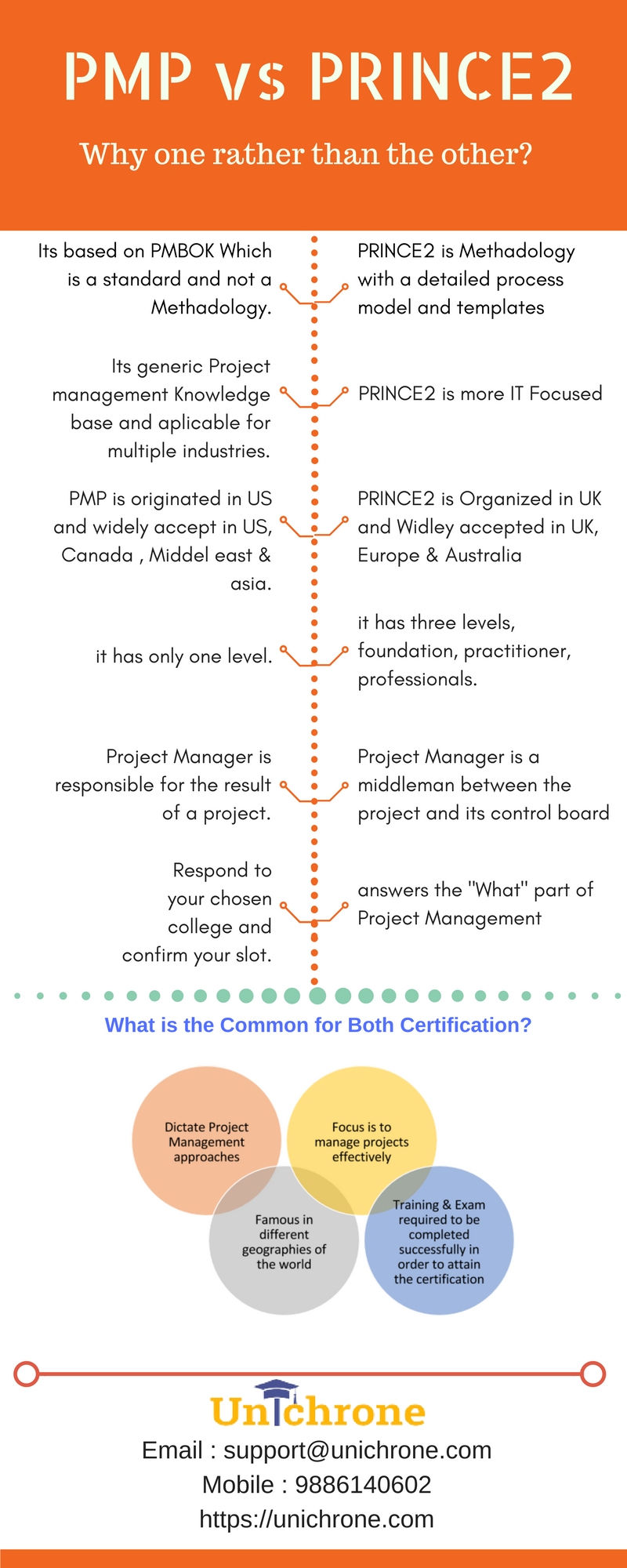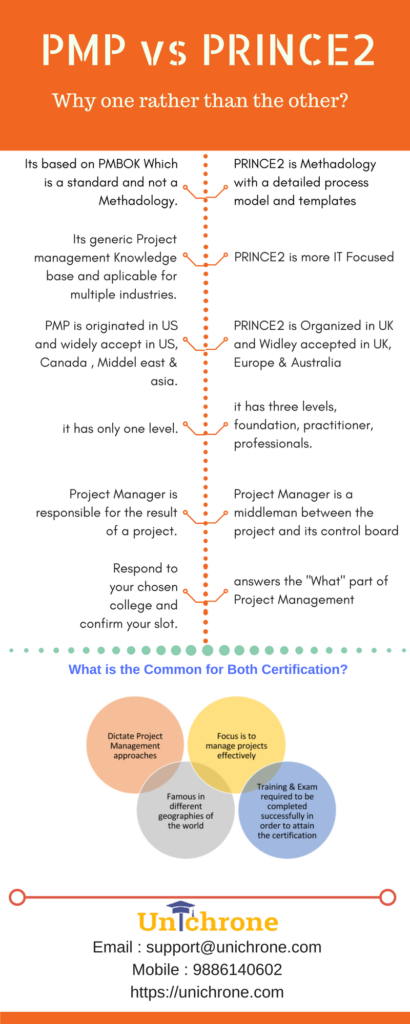 PMP vs PRINCE2 Why one rather than the other?
PMP & PRINCE2 are two well-known certifications in the field of Project Management. Both are famous, both have their own uniqueness in one way or the other. No doubt it's difficult to make a call which one is better than other and which one should be a best choice for a person who needs certifications in the field of Project Management.
PMP Certification :
PMI's project management expert (PMP®) credential is broadly identified across the world because the definitive industry-recognized certification for project managers.
A major part of the PMP Certification  curriculum consists of five top-level performance domains, each of which corresponds to a specific phase or factor in project completion. The PMP also identifies several knowledge areas regarding the cost and scope of projects, and other comprehensive aspects and principles of project management. Individual questions address elements of each of these areas in order to prepare test takers for real-world project management situations.
PRINCE2 Certification
PRINCE2 (PRojects IN Controlled Environments) is the world's most established method for project management and is globally recognized for delivering successful projects. The PRINCE2 2017 Update represents the first major revision of PRINCE2 since 2009. The updated guidance, Managing Successful Projects with PRINCE2, and new Foundation and Practitioner examinations form the PRINCE2 2017 update.
The PRINCE2 credential attests that you have acquired the necessary skills and know-how that can be adapted to any project scenario. It also broadens your employment opportunities. For potential recruiters, these credentials put the spotlight on your resume and showcase your capability to implement techniques that are needed for successful project management in an organization.
PRINCE2 FOUNDATION:

This intensive instructor-led course is aimed at anyone wishing to gain the qualification and needing to understand the terminology and principals behind this method.

PRINCE2 PRACTITIONER :


This course conforms to the syllabus set down by AXELOS Limited for delegates wishing to gain the 2017 PRINCE2 Practitioner certification. This instructor-led course is aimed at anyone wishing to gain the qualification, ideally having already attended the PRINCE2 Foundation course.
Which one is better?
To mention, which one is purely personal prospective of the writer or thought processor. Both have its own uniqueness and advantages. It depends on multiple factors which one to choose like:
One has to access its geography (which certification is well known in that area), Industry (which certification is appreciated more in the industry) and local environment of the organization and industry, if s/he targeting for one certification, these questions will answer which one to target for. On a whole both the certifications has abundance of knowledge on Project Management.
Which one to opt for?
After this full discussion we can say that both the certification compliments each other but still different in its own way. Ideally the combination of both is recommended as if you have standard guide clarity and you are having a methodology clarity, you are covering the full circle.
Therefore one should target to do both if one is aspiring or already excelling in the area of Project Management. However if the aspirant/professional want to go for only one, he should access which one is better with the above mentioned criteria and go for the one which will give maximum ROI to the investment s/he will do.
Unichrone specializes in providing Project Management certification training courses such as PMP Certification, PRINCE2 Certification Training, CAPM Certification Training, PGMP Certification, PMI-RMP Exam Prep Training , PMI-ACP Certification Training. If you would like to know more about the benefits of Project Management certifications for your career, call our consultant now on:9886140602 Or email : support@unichrone.com