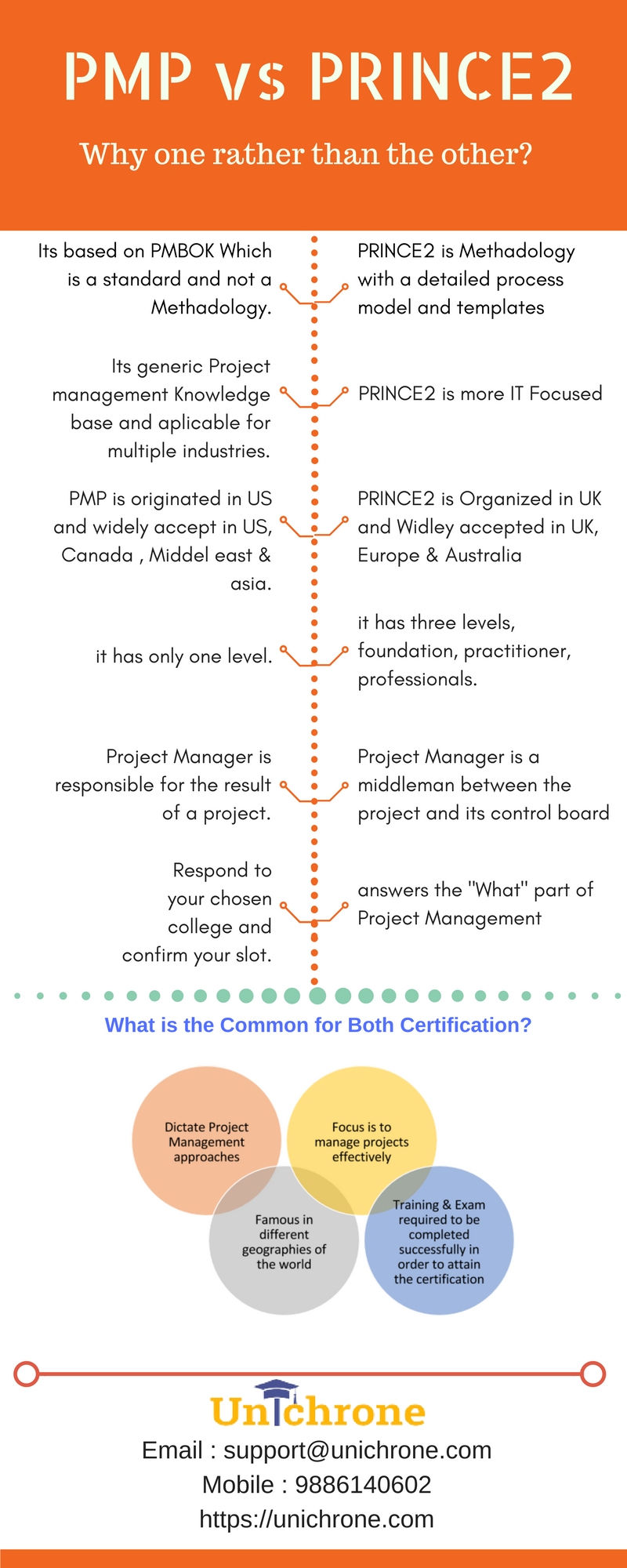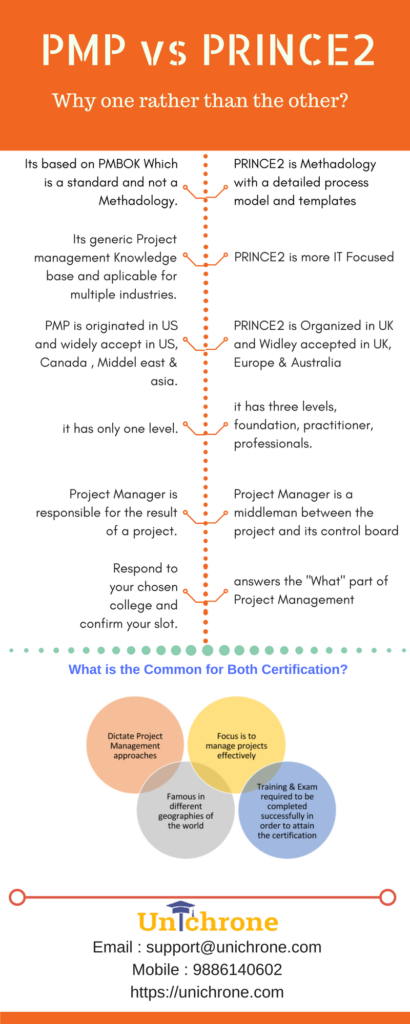 PMP vs PRINCE2 Why one rather than the other?
PMP and PRINCE2 are two well-known certifications in the field of Project Management. Both are popular and have their own uniqueness in one way or the other. No doubt it is difficult to make a call on which one is better than the other and which one should be the best choice for a person who needs certifications in the field of Project Management.
PMP Certification
Project Management Institute (PMI) offers the Project Management Professional (PMP) credential. It validates candidates' understanding of widely established best practices and principles in project management. The certification covers a broad range of project management methodologies and abilities required of project managers. It applies to project managers in all industries, including health care, construction, information technology (IT), and business. Furthermore, it enhances job prospects and earnings potential.
PRINCE2 Certification
PRINCE2 (PRojects IN Controlled Environments) is the world's most established method for project management and is globally recognized for delivering successful projects. It demonstrates candidates' understanding of systematic methods to project delivery using procedures, steps, and templates. These credentials put the spotlight on candidates' resumes and showcase their capability to implement techniques that are needed for successful project management in an organization.
The key difference between PMP and PRINCE2 Certificate
Methodology
PMP is based on the PMBOK Guide and employs a knowledge-based methodology. It focuses on the procedures and skills required to successfully manage and deliver projects.
PRINCE2 follows a process-based methodology. It focuses on the structures and procedures required for successful initiatives.
Framework
PMP uses a descriptive framework based on knowledge areas such as scope, schedule, cost, and risk whereas PRINCE2 uses a prescriptive framework based on best practices in the project environment.
Level of certification
PMP is a stand-alone certificate for project management. However, there are other project management related to certifications provided by PMI.
On the other hand, PRINCE2 certification has two different qualification levels.
PRINCE2 Foundation: This certification outlines the PRINCE2 technique and verifies that candidates have sufficient understanding of the PRINCE2 method to work with, or as a part of, a project management team in an environment that supports PRINCE2.
PRINCE2 Practitioner: This certification confirms that candidates have adequate knowledge and understanding of the PRINCE2 methodology to implement and manage projects in PRINCE2-supporting project environments.
Certification requirements
Four-year degree

36 months of leading projects

35 hours of project management education
Or
a high school diploma or an associate's degree

60 months of leading projects

35 hours of project management education
PRINCE2 prerequisites
PRINCE2 Foundation does not have any eligibility criteria. However, the practitioner level requires candidates to have PRINCE2 Foundation Certification.
Exam Format
Both PMP and PRINCE2 Certification requires candidates to pass the exam to obtain the certificate.
PMP: It consists of 200 multiple choice questions with a time duration of 230 minutes.
PRINCE2 Foundation: It consists of 60 multiple choice questions with a time limit of 60 minutes
PRINCE2 Practitioner: It consists of 68 scenario-based subjective questions that have to be completed within 150 minutes.
Certification validity
PMP: PMP Certificate is valid for three years and candidates have to earn 60 PDUs every three years to maintain it.
PRINCE2 Foundation: PRINCE2 Foundation does not expiry
PRINCE2 Practitioner: PRINCE2 Practitioner Certificate is valid for three years and candidates have to earn 20 CPD every year to maintain it.
Career prospect
PMP: Project manager, information security project manager, software developer, systems engineer, project director, service delivery manager, and project management officer.
PRINCE2: Project manager, service delivery manager, program manager, project management analyst, service improvement manager, project delivery manager, prince2 consultant, and innovation delivery manager.
Salary
PMP: According to payscale, PMP professionals earn an average salary of USD 110,000 per year.
PRINCE2: PRINCE2 professionals can make an annual average salary of USD 99,000 per year as per payscale.
Which is better? PMP or PRINCE2
PMP and PRINCE2 are both valuable project management certifications. These certificates complement one other yet are unique in their own way. The PMP approach is knowledge-based, whereas the PRINCE2 methodology is process-based. Candidates who desire to flourish in the field of project management can acquire exposure to both certificates. As a result, aspirants can pursue both options in order to become a worldwide recognized and competent project managers.
Individuals can enroll in PMP Certification Training to gain knowledge and skills about project management principles and concepts. They also gain hands-on experience in managing projects using tools and techniques in project management.
Unichrone specializes in providing Project Management certification training courses such as PMP Certification, PRINCE2 Certification Training, CAPM Certification Training, PGMP Certification, PMI-RMP Exam Prep Training , PMI-ACP Certification Training. If you would like to know more about the benefits of Project Management certifications for your career, call our consultant now on:9886140602 Or email : support@unichrone.com