Are you wondering if project management will be good for your career? Can a project management career be future-proof? Or will project management become obsolete in the future? These are a few of the thousands of questions that come to mind whilst deciding one's career path. An individual must decide their life goals and the journey they are willing to take on to reach those objectives. Everyone has different paths that they take to achieve their career and life objectives. And we can be sure that no two individuals have the same storyline. However, if you want to future-proof your career then a career in project management is your best bet and become a successful project manager.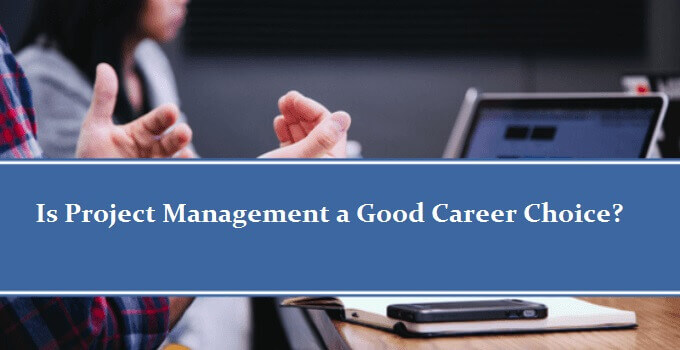 Project Management
Project Management is a methodology that helps project managers in planning, executing, monitoring, controlling, and managing projects for their organizations. The project management methodology includes several knowledge areas, techniques, and tools. To successfully manage a project for their organization, project managers must be knowledgeable and skilled in the project management methodology. As a result, organizations with qualified and certified project managers are more successful than their competitors. They deliver projects frequently and consistently for their customers or clients with the highest quality and value.
Project Management Career
A career in project management is much more secure than any other sector in many ways. For starters, project managers are the highest-paid professionals in the world. Based on data provided by Salary.com, project managers can earn between $108,166 to $145,122 on average per year, globally. Also, since project management is not restricted to a particular industry, these professionals can work in any industrial sector. Manufacturing industries, automobile industries, aerospace industries, electronics industries, and many other major industries need project managers to oversee their projects from start to finish. Even small and medium business enterprises require a qualified project manager to deliver successful projects for their customers.
Project Managers are the most in-demand professionals and this will stay true for many more years to come. This has been verified by the report prepared by the Project Management Institute (PMI), the world's leading project management governing body. According to PMI, organizations around the world will require to fill at least 2.2 million new project management-oriented roles by 2027. These numbers should be reason enough to start a project management career. However, this also proves that there is a huge gap between the knowledge and skills of potential employees and the roles they will be applying to.
Therefore, the best way to future-proof your career in project management is to aim for the PMP (Project Management Professional) Certification awarded by PMI. It is the most recognized and respected credential for project managers around the globe. Certification in PMP validates that the project management professional has the required knowledge and skills to manage a project from its ideation to completion. PMPs with this prestigious credential on their resume are given more notice than those without during the hiring process. Some organizations even make a PMP Certification mandatory before application.
Advantages of a PMP Certification
A PMP Certification is your gateway to becoming a successful project manager. This credential was created to standardize and streamline the project management field. PMI frequently collaborates with several notable organizations spanning multiple industrial sectors to keep the PMP Certification updated with the changing times. Therefore, project managers with this certification to their name have all the latest information about the project management industry including market trends and the global economic scene. Along with validating their project management knowledge and skills, the PMP-certified project managers can secure their careers and earn better than any other certified professionals in the industry.
Here are some of the most notable advantages of a PMP Certification:
Improved Credibility
It helps project managers gain credibility for their efforts to earn the most valuable and comparatively difficult certification. Since PMI has very high standards for applying for the PMP Certification, earning this credential proves that you have what it takes to succeed in your project management roles.
Better Opportunity
This certification provides you with job opportunities that you never knew existed before. Enriching your career with the PMP Certification opens new doors for you to start working in any industry of your choice.
Increased Promotability
There is a better chance of promotability with this industry-recognized certification as it allows you to advance your career further. You can gain promotion in your existing organization, or you can apply for job roles that suit your qualifications; the possibility is endless for certified PMPs.
Higher Earning Power
PMPs earn more than their non-certified counterparts with an average annual salary ranging from $60,069 and $253,748 in the US alone, according to Salary.com. This justifies the fact that project managers with the PMP Certification earn higher than the rest.
Global Recognition
Earn global recognition along with several thousand PMPs in the world, leading and managing projects for their organizations using the project management methodology. Project Managers with a PMP Certification can stay relevant and updated with the latest industry information by networking with fellow PMPs.
PMP is More than a Certification
The PMP Certification is not just a standard certification where you simply attempt the examination and score the passing marks without bothering about the knowledge and skills gained for the rest of your life. This knowledge and skills learned and validated through the credential will become useful for you while doing your job. You will be using the project management methodology throughout your career as a PMP.
Therefore, PMI goes beyond the standard testing procedure to assess PMP certification aspirants through the 4E's of project management competence:
Education – A minimum number of contact hours in project management education are required for eligibility.
Experience – A proven record of the minimum range of hours that are aligned with specific project management tasks like leading, managing, and directing projects for organizations is required.
Examination – A multiple-choice examination format to provide an extremely reliable way to assess project management competence.
Ethics – All candidates and certification holders adhere to the PMI Code of Ethics and professional conduct.
PMI's Continuing Certification Requirements (CCR) program ensures that certified practitioners maintain and continue to develop their competency in project management. This helps PMP certification holders remain relevant and up to date with the latest developments in the project management field. Thus, any organization hiring PMPs has the added advantage of remaining current and changing with the dynamic project management industry.
So, to answer the question – Is Project Management a Good Career?
Yes! Definitely. Project Management is a good career choice. A career in project management especially with a PMP Certification not only benefits an individual but also aids the employers who hire them to work on their projects. PMPs are equipped with an updated and refined set of tools, techniques, and methodologies that can have an excellent impact on the success of a project. This helps organizations in obtaining new projects and finishing them with maximum success rate. Their proven knowledge of standard project management methodologies helps organizations in multiplying productivity and ultimately leads to long-term growth.
Some more useful topics: